Appreciation at Work Launches Employee Engagement System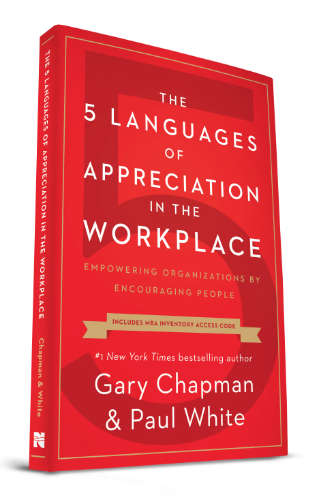 The principles of Appreciation at Work, embodied in the book, The 5 Languages of Appreciation in the Workplace, co-authored by Dr. Paul White, are now embedded in an employee engagement technology available through his firm and Incentco LLC, an enterprise engagement technology firm.

Inspiring Performance Through Appreciation
Supported With an Implementation Process

The new Appreciation at Work Employee Engagement application now makes it simple and affordable for any size or type of organization to make a personal connection with every key employee or other stakeholder. It is the only engagement technology following the principles of the book, The 5 Languages of Appreciation in the Workplace, according to Dr. Paul White, author and founder and CEO of the Appreciation at Work culture advisory firm. Click here for complete details on the platform.

With over 500,000 books sold in 25 languages and sales of over 50,000 annually—even in its 12th year—the company says it's a perennial best seller, with most New York Times bestsellers selling no more than between 10,000 to 100,000 in their first year. Dr. White and Appreciation at Work provide services in support of the new Enterprise Engagement Alliance research group, which focuses on evaluating the return on investment and outcomes of engagement efforts to identify effective practices.

Explains Dr. White, "After seeing more recognition companies using our concept of languages of appreciation, it only made sense to ensure that organizations can gain access to an enterprise engagement technology version that comes with our complete evaluation and implementation system, without which the technology has little value."

Now, he says, "the hundreds of thousands of people at organizations around the world who have read our books, use its principles, or have taken our Appreciation at Work assessments can bake these principles into the fabric of their cultures to enhance performance and workplace experiences." The AAW employee engagement application seamlessly supports on a single platform all the key levers of engagement and aligns appreciation to support those actions that lead to measurable organizational success, he explains. "Combined with our evaluation and implementation process, the technology supports a complete appreciation system."

Each participant's profile displays his or her preferred language of appreciation, so that managers and employees can recognize them in the way that will be most valued.

Inspiring Performance Through Appreciation

The 5 Languages of Appreciation in the Workplace: Empowering Organizations by Encouraging People, written by Dr. White and Gary Chapman based on their research, "brings the love language concept to the workplace. "Our book teaches how to improve job satisfaction, create more positive relationships between managers and employees, and decrease burnout. How? By effectively communicating appreciation to employees, co-workers, and team members for the actions and attitudes that matter. It includes information on: how companies "engage" and "appreciate" remote and hybrid workers, and other employees who aren't often on site; the differences between generations and how they want to be shown appreciation, and more."

He adds, "When built into your business operating system and culture, appreciation is the key to success because we all work better when we feel appreciated for what's valued in the organization."

The AAW Employee Engagement platform integrates with the assessment tool developed by psychologist Dr. Gary Chapman and Dr. White to accompany the 5 Languages of Appreciation in the Workplace: Empowering Organizations by Encouraging People, so that all people in the program can see the appreciation profiles of their colleagues.

The Motivating By Appreciation Inventory is designed to enable supervisors, managers, and coworkers to communicate appreciation to their colleagues in ways that are meaningful and which "hit the mark" for the person organizations wish to encourage. The company says that inventory takes 15-20 minutes for each employee to complete online and an individual report is generated immediately. It identifies the respondents' primary language of appreciation, their secondary languages of appreciation, and the languages of appreciation which are least important to them. Additionally, a unique action list is developed for everyone's profile and personal preferences. Abbreviated versions of these reports appear on the AAW platform on each employee's profile page used to express and receive expressions of appreciation through its recognition module, Dr. White explains.
Supported With an Implementation Process

The AAW technology platform is based on a 12-year-old technology used by hundreds of companies with over one half million participants, the Appreciation at Work Employee Engagement app not only incorporates the five languages of appreciation into the reward platform but automates all key engagement levers to make sure that the platform is tied to organizational success, Dr. White says.

The technology comes with the include the Appreciation at Work training kit which is mailed to each program manager shortly after completing the course. The kit includes:
Five video training videos
Facilitator's guidebook
Participants booklets
PowerPoint versions of the videos
Five supplemental topic videos
Follow-up emails and resources
He says the AAW employee engagement app includes:
Program design and key performance measures tied to organizational goals, which can include retention, referrals, productivity, quality, DEI (diversity, equity, and inclusion), wellness and safety.
Surveys to track feelings and perceptions over time.
Informative e-newsletters produced by your team or ours to keep people informed about what's important.
Links to useful training or professional development services created by your team or by resources we can provide.
Social, manager-to peer and peer-to-recognition enabling people to express appreciation for specific actions or attitudes baked into the program design—using precisely the type of appreciation each person prefers.
A personal profile for each employee accessible to everyone that enables people to see how people like to be appreciated based on the results of their Motivating by Appreciation Inventory (MBAI).
A referral platform enabling any employee to refer new employees, customers, or distribution partners, or to provide useful ideas, and to feel appreciated for such actions in the way they prefer.
A unique and fun "mall" shopping experience for rewards that enables your organization to offer employees to an array of tangible brand name gift card, merchandise, and travel redemption from multiple industry wholesalers.
Dr. White claims that the benefits are:
Incomparable qualitative and behavior-based data to make better decisions: Correlate turnover, referrals, quality, productivity, safety, DEI, wellness, or other data with use of the platform features; responses to surveys; consumption of newsletters and training; participation in social recognition and peer-to-peer recognition, or safety, DEI, or wellness efforts—all sorted by whatever demographics your organization makes available to the system.
Enhanced performance reviews: The above data can be created for each individual to create a truer picture of their level of engagement, commitment, and results, greatly reducing the level of subjectivity in the traditional performance review process.

For More Information
Paul White, Ph.D.
President, Appreciation at Work
316-681-4431
paul@drpaulwhite.com

---

Through education, media, business development, advisory services, and outreach, the Enterprise Engagement Alliance supports professionals, educators, organizations, asset managers, investors, and engagement solution providers seeking a competitive advantage by profiting from a strategic and systematic approach to stakeholder engagement across the enterprise. Click here for details on all EEA and ESM media services.

1. Professional Education on Stakeholder Management and Total Rewards
Become part of the EEA as an individual, corporation, or solution provider to gain access to valuable learning, thought leadership, and marketing resources to master stakeholder management and reporting.
The only education and certification program focusing on Stakeholder Engagement and Human Capital metrics and reporting, featuring nine members-only training videos that provide preparation for certification in Enterprise Engagement.
EEA books: Paid EEA participants receive Enterprise Engagement for CEOs: The Little Blue Book for People-Centric Capitalists, a quick implementation guide for CEOs; Enterprise Engagement: The Roadmap 5th Edition implementation guide; a comprehensive textbook for practitioners, academics, and students, plus four books on theory and implementation from leaders in Stakeholder Management, Finance, Human Capital Management, and Culture.
2. Media
3. Fully Integrated Business Development for Engagement and Total Rewards

Strategic Business Development for Stakeholder Management and Total Rewards solution providers, including Integrated blog, social media, and e-newsletter campaigns managed by content marketing experts.

4. Advisory Services for Organizations

Stakeholder Management Business Plans; Human Capital Management, Metrics, and Corporate Sustainability Reporting for organizations, including ISO human capital certifications, and services for solution providers.

5. Outreach in the US and Around the World on Stakeholder Management and Total Rewards

The EEA promotes a strategic approach to people management and total rewards through its e-newsletters, web sites, and social media reaching 20,000 professionals a month and through other activities, such as: