Engagement Agency Brings BCAT Solution to Clients Seeking Updated Brand, Culture Platform
The BCAT process can help an organization update its brand and culture within a matter of days using a combination of proven consensus-building tools and a unique technology to measure alignment.
"Any organization seeking to implement a strategic and systematic approach to human capital management and ROI of engagement needs to start with a clear, strategic and consensus-based brand and culture to cascade across all stakeholders," says Bruce Bolger, founder of The Engagement Agency, a new service that helps connect organizations with appropriate engagement solutions. The Engagement Agency is incorporating the BCAT methodology into its new human capital management support service to offer solution providers and their clients a rapid and effective way to address the fundamental need to have a clear brand and culture before undertaking any engagement process.
BCAT
is a leading supplier of a brand, culture, and team alignment process that helps organizations efficiently and rapidly create alignment in almost any type of team for any type of reason, including new product launches, special research and development efforts, entertainment productions, etc. Explains Al Cini, BCAT founder, "Having a formal process for fostering alignment in any group helps improve performance and efficiencies as well as experiences by having everyone singing from the same song sheet. This process can be applied to the development of the organization's brand and culture principles or to the deployment of any ad hoc group to make sure everyone has a vision of what the organization and their role looks like on its best day. From there, organizations can develop more effective communications, learning, coaching, and rewards and recognition efforts to support that brand and culture."
For information on BCAT's referral program for solution providers, go to its storefront on the
EEXAdvisors.com
engagement marketplace.
The Engagement Agency
is the first agency and advisory firm specifically designed to help solution providers in marketing and management bring a full suite of engagement solutions to their clients. Founded by the Enterprise Engagement Alliance, the Engagement Agency utilizes the processes of Enterprise Engagement and ISO 10018 people management and ISO 30014 human capital reporting standards along with appropriate engagement technology. Its services to organizations include:
•
Help with development human capital management strategies, dashboards, and action plans, and with evaluation, design, and implementation ROI-based engagement strategies.
•
Facilitated sessions to create a 360-degree brand and culture.
•
Managed outsourcing of enterprise engagement technology and other tactics from culture to analytics.
•
Development and oversight of deployment as needed of ROI-based engagement processes
Says Bruce Bolger, founder of the Engagement Agency, "Based on observations from experts Dr. Gary Rhoads, CEO, Xvoyant.com and Professor Emeritus, Brigham Young University Marriott Graduate School of Business; Alex Edmans, Professor of Finance for London Business School, and Barbara Porter, Managing Director at EY, and Dr. Paul White, CEO of Appreciation at Work, in a recent EEA Zoom show on culture, having a defined brand and culture is critical to organizational success, and yet less than 20% of organizations have an updated brand and culture that connects all stakeholders.
For More Information
Bruce Bolger, Engagement Agency
Tel. 914-591-7600, Ext. 230
---
Master the Principles of Stakeholder Capitalism And Implementation Through Enterprise Engagement
Education, Certifications, and Information to Activate
Stakeholder Capitalism Available Nowhere Else
A complete learning, certification, and information program and a course syllabus for educators.
Training and Certification
Enterprise Engagement Alliance Education: Certified Engagement Practitioner; Advanced Engaged Practitioner, and Certified Engagement Solution Provider learning and certification programs on how to implement Stakeholder Capitalism principles at the tactical level.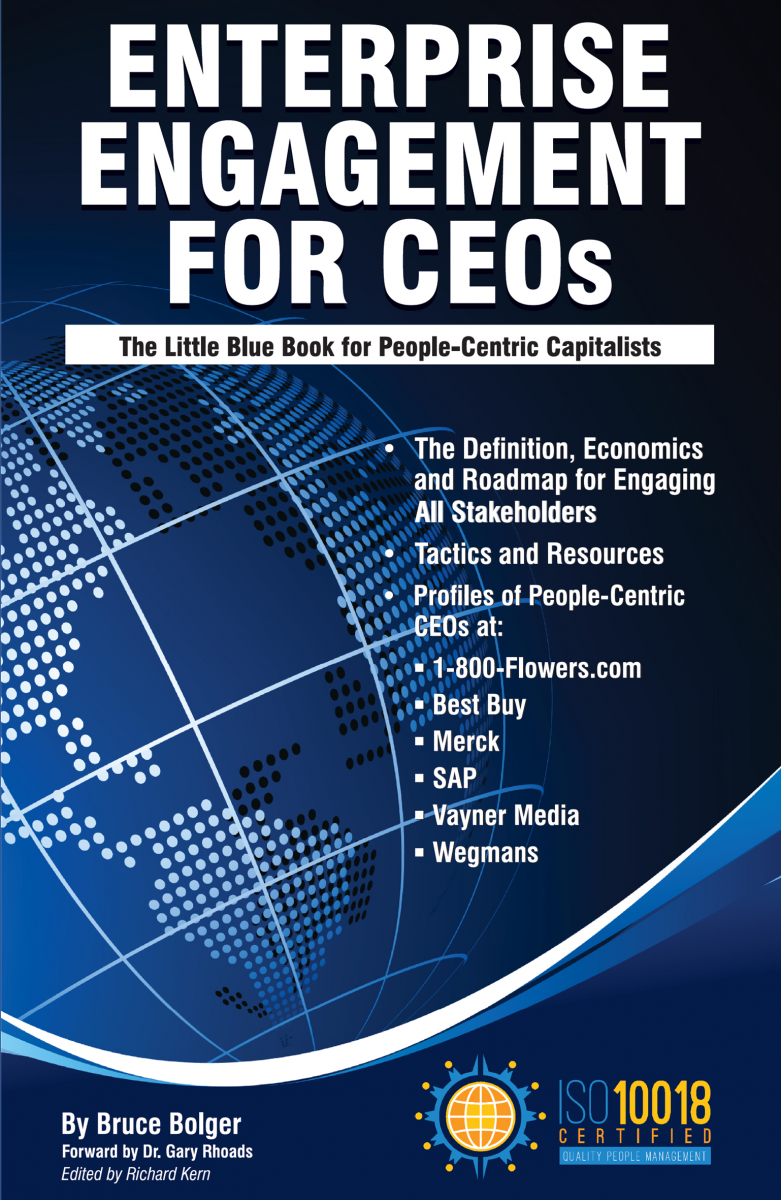 Join the EEA to begin your certification process or see our other resources below.
THE ONLY BOOKS ON STAKEHOLDER CAPITALISM IMPLEMENTATION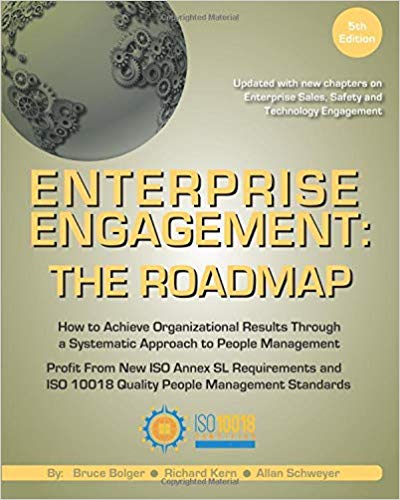 Enterprise Engagement: The Roadmap 5th Edition
The first and most comprehensive book on Enterprise Engagement and the new ISO 9001 and ISO 10018 quality people management standards. Includes 36 chapters detailing how to better integrate and align engagement efforts across the enterprise. (312 pages, $36.)
OTHER RESOURCES TO ACTUALIZE STAKEHOLDER CAPITALISM
Communities:
The
Enterprise Engagement Alliance and Advocate
and the
Brand Media Coalition
free resource centers offering access to the latest research, news, and case studies; discounts, promotions, referrals, and commissions, when appropriate to third-party solution providers from participating coalition solution provider members.
Enterprise Engagement
Resources:
EEXAdvisors.com provides the only curated online marketplace to access hundreds of solution providers in all areas of human capital management and enterprise engagement throughout the world.
Online Overview:
10-minute short course: click here for a 10-minute introduction to Enterprise Engagement and ISO standards from the Coggno.com learning platform.
Services:
• The Engagement Agency at EngagementAgency.net, offering: complete support services for employers, solution providers, and technology firms seeking to profit from formal engagement practices for themselves or their clients, including Brand and Capability audits for solution providers to make sure their products and services are up to date.
• C-Suite Advisory Service—Education of boards, investors, and C-suite executives on the economics, framework, and implementation processes of Enterprise Engagement.
• Speakers Bureau—Select the right speaker on any aspect of engagement for your next event.
• Mergers and Acquisitions. The Engagement Agency's Mergers and Acquisition group is aware of multiple companies seeking to purchase firms in the engagement field. Contact Michael Mazer in confidence if your company is potentially for sale at 303-320-3777.
Enterprise Engagement Benchmark Tools: The Enterprise Engagement Alliance offers three tools to help organizations profit from Engagement. Click here to access the tools.
• ROI of Engagement Calculator. Use this tool to determine the potential return-on-investment of an engagement strategy.
• EE Benchmark Indicator. Confidentially benchmark your organization's Enterprise Engagement practices against organizations and best practices.
• Compare Your Company's Level of Engagement. Quickly compare your organization's level of engagement to those of others based on the same criteria as the EEA's Engaged Company Stock Index.
• Gauge Your Personal Level of Engagement. This survey, donated by Horsepower, enables individuals to gauge their own personal levels of engagement.
For more information, contact Bruce Bolger at Bolger@TheEEA.org, 914-591-7600, ext. 230.