HCMetrix Powers Human Capital Management Reporting and Benchmarking
A new platform from HCMoneyball™ helps organizations rapidly manage and track human capital information to drive better decision-making and effective internal and external reporting consistent with ISO 30414 human capital standards.

The
HCMetrix™ SaaS
(Software as a Service)-based human capital analytics and benchmarking platform is the only fully configurable means of integrating human capital with financial information in one solution to drive better decision-making and manage reporting and disclosures, according to Dr. Solange Charas, founder of HCMoneyball.
HCMetrix supports CEOs and other senior management, mergers and acquisitions professionals, ISO 30414 practitioners and other professionals to track, analyze and report on key human capital metrics, trends, and performance indicators, and how they link to financial performance.
"We are at the beginning of a new era related to applying insights from human capital analytics," says Dr. Charas. "Based on decades of academic research, the idea of standard approaches or 'algorithms' to calculate key human capital financial ratios is being more readily adopted by the practitioners community. Standardized algorithms have recently been showcased by ISO (International Organization for Standardization), and human capital disclosures are now required by the
US Securities & Exchange Commission
and recommended by such organizations as the
World Economic Forum
. This means that organizations will have compelling reasons to calculate their human capital performance consistent with reporting requirements, be able to reliably benchmark their performance against standardized data and communicate to stakeholders and employees in a common measurement language. These standard algorithms power the HCMetrix™ platform. Most importantly, beyond disclosure requirements, it is just good business to gain insights about the effectiveness of human capital investments as a driver of business outcomes," she explains.
CEO's are missing an important management tool if they or their CFOs or CHROs (chief human capital officers) are not calculating human capital analytics, Dr. Charas asserts. "These metrics are inextricably tied to EBITDA performance (earnings before income tax, depreciation, and amortization. For most labor-intensive organizations, human capital costs can be 60% or more of total operating expenses. As human capital expenses rise, the leveragability of human capital efficiencies becomes even more critical. C-suite executives now have a way to instantly calculate, monitor and create visual representations of human capital and corporate financial performance so they can make informed decisions to optimize business outcomes."
Analytics-Based Decisions
The HCMetrix platform is designed to provide senior management the key human capital information they need to:
• Track, benchmark. and correlate human capital measures to financial performance data.
• Understand efficiencies of HR programs.
• Forecast performance based on human capital performance trends
• Calculate return-on-investment of people programs and correlate this to corporate financial performance.
The HCMetrix™ platform makes it easy to visualize trends, correlate these to financial indicators and identify potential opportunities and risks, Dr. Charas points out. The platform allows the user, with simple "drag and drop" functionality, the ability to visually represent the relationship between financial indicators (revenue, expense, EBITDA, etc.) and human capital performance (HCROI--human capital return on investment; HEVA--human economic value add; HCVA--human capital value add; HCMV--human capital market value; attrition, retention, productivity, job mobility, diversity, equity, etc.) In addition, the equity capability allows for companies to track and monitor performance in a variety of areas to understand performance against social justice initiatives; for instance, equity in ethnic, race, and gender categories. The ISO capability allows users to create ISO 30414 human capital conforming reports with a click of the mouse, she says.
"Most organizations consider human resources an expense issue—money spent and treated as a sunk cost. What is unique about our platform is that it is the only solution that allows organizations to track human capital as they would inventory, plant and equipment, cash, accounts receivable and more. It's time we measured the return on investment in human capital rather than thinking about it as a sunk cost or necessary evil. Moreover, recent research indicates that 90% of a company's value is intangible assets. Since the SEC now considers human capital an intangible asset, it is critical that organizations understand the performance of this specific intangible asset," Dr. Charas says.
A Better Platform for Decision-Making
Dr. Charas says "it's tempting for a CEO or CFO to look at the revenue-per-employee statistic and conclude that the best way to improve it is to cut headcount." But when correlated against other key data, such as HCROI (Human Capital Return on Investment), Human Capital Value Add, retention, attrition, mobility and other performance indicators, the dangers of that way of thinking are exposed. HCMetrix™ allows the user to better understand the relationships between human capital and financial outcomes and avoid making decisions based on faulty assumptions."
The company's HCMetrix™ database is already populated with the key financial data of all public companies filing with the SEC, and is being expanded to include public and private companies worldwide for benchmarking purposes, says Joseph Olewitz, Chief Revenue Officer and Client Satisfaction Officer. "Organizations can benchmark themselves against multiple types of organizations and can easily create custom reports to facilitate analyses using the platform," he explains.
Dr. Charas believes the platform provides a valuable tool for human resources management seeking to demonstrate the value of their people investments to the organization. "This information enhances HR's credibility in the organization by demonstrating an understanding of the financial impact of HR programs, and managing to the numbers and demonstrating returns on human capital investments."
According to Olewitz, the company helps with initial setup and provides support as part of the license fee. The simple onboarding process requires uploading existing data (in the aggregate). "Subscribers are using the platform for analytics, benchmarking and forecasting within ten days. The annual cost is typically less than the cost of one-half of the salary of a data analyst performing the same tasks, and the results are instantaneous, far more detailed, and augmented by benchmarked data. Based on the functionality requested, annual fees vary. We offer the solution in Australia, Europe, India, South America, and the Middle East with local staff on-the-ground."
For most functions in the organization (manufacturing, marketing, finance, sales, operations, fulfilment, etc.), decisions are based on careful analytics and forecasts," says Dr. Charas. "In HR, this is rarely done. Most HR decisions are based on either 'best practices' that have worked in other firms, or 'this is how we've always done it,' or even worse, a 'gut sense or intuition,' which has the potential of increasing inefficiencies in the HR area. It's time for HR professionals to use data-driven, evidence-based approaches."
For More Information
Joseph Olewitz
Chief Revenue Officer
hcmoneyball.com
---
Master the Principles of Stakeholder Capitalism And Implementation Through Enterprise Engagement
Education, Certifications, and Information to Activate
Stakeholder Capitalism Available Nowhere Else
A complete learning, certification, and information program and a course syllabus for educators.
Training and Certification
Enterprise Engagement Alliance Education: Certified Engagement Practitioner; Advanced Engaged Practitioner, and Certified Engagement Solution Provider learning and certification programs on how to implement Stakeholder Capitalism principles at the tactical level.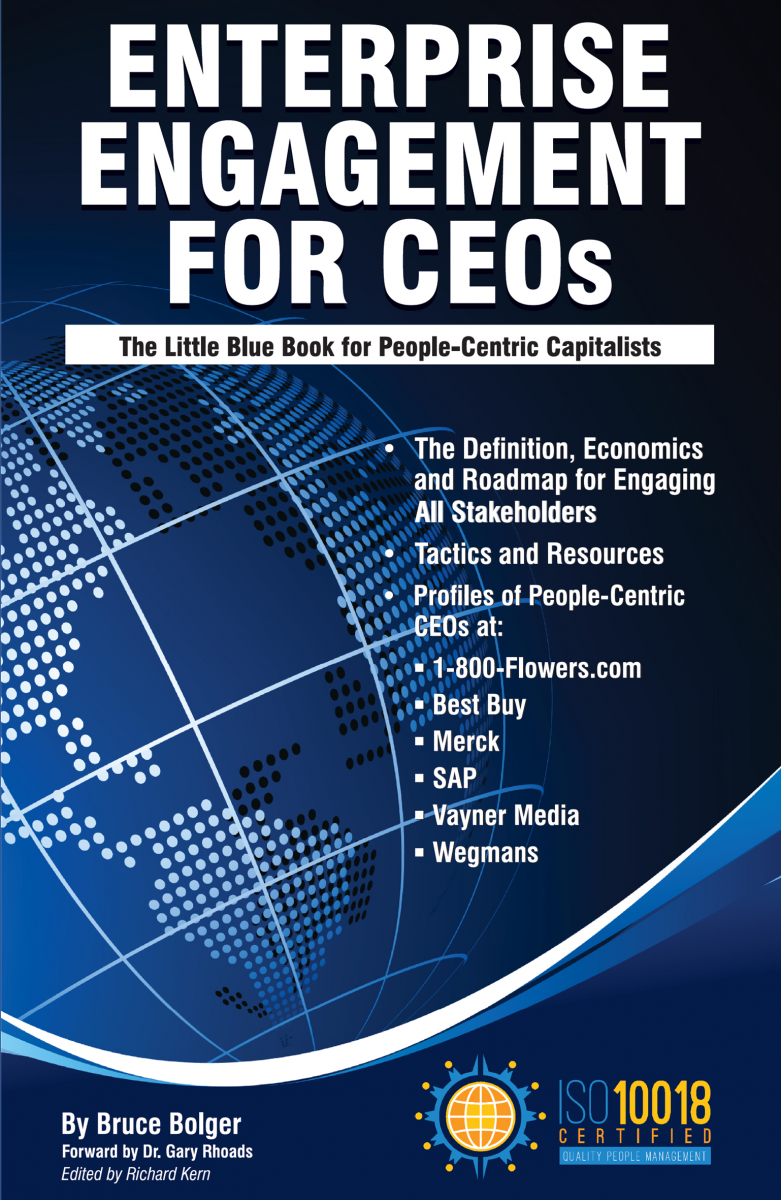 Join the EEA to begin your certification process or see our other resources below.
THE ONLY BOOKS ON STAKEHOLDER CAPITALISM IMPLEMENTATION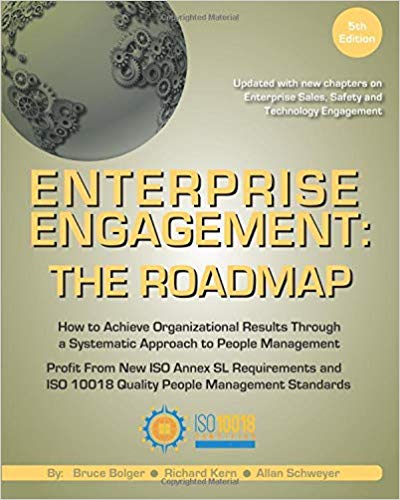 Enterprise Engagement: The Roadmap 5th Edition
The first and most comprehensive book on Enterprise Engagement and the new ISO 9001 and ISO 10018 quality people management standards. Includes 36 chapters detailing how to better integrate and align engagement efforts across the enterprise. (312 pages, $36.)
OTHER RESOURCES TO ACTUALIZE STAKEHOLDER CAPITALISM
Communities:
The
Enterprise Engagement Alliance and Advocate
and the
Brand Media Coalition
free resource centers offering access to the latest research, news, and case studies; discounts, promotions, referrals, and commissions, when appropriate to third-party solution providers from participating coalition solution provider members.
Enterprise Engagement
Resources:
EEXAdvisors.com provides the only curated online marketplace to access hundreds of solution providers in all areas of human capital management and enterprise engagement throughout the world.
Online Overview:
10-minute short course: click here for a 10-minute introduction to Enterprise Engagement and ISO standards from the Coggno.com learning platform.
Services:
• The Engagement Agency at EngagementAgency.net, offering: complete support services for employers, solution providers, and technology firms seeking to profit from formal engagement practices for themselves or their clients, including Brand and Capability audits for solution providers to make sure their products and services are up to date.
• C-Suite Advisory Service—Education of boards, investors, and C-suite executives on the economics, framework, and implementation processes of Enterprise Engagement.
• Speakers Bureau—Select the right speaker on any aspect of engagement for your next event.
• Mergers and Acquisitions. The Engagement Agency's Mergers and Acquisition group is aware of multiple companies seeking to purchase firms in the engagement field. Contact Michael Mazer in confidence if your company is potentially for sale at 303-320-3777.
Enterprise Engagement Benchmark Tools: The Enterprise Engagement Alliance offers three tools to help organizations profit from Engagement. Click here to access the tools.
• ROI of Engagement Calculator. Use this tool to determine the potential return-on-investment of an engagement strategy.
• EE Benchmark Indicator. Confidentially benchmark your organization's Enterprise Engagement practices against organizations and best practices.
• Compare Your Company's Level of Engagement. Quickly compare your organization's level of engagement to those of others based on the same criteria as the EEA's Engaged Company Stock Index.
• Gauge Your Personal Level of Engagement. This survey, donated by Horsepower, enables individuals to gauge their own personal levels of engagement.
For more information, contact Bruce Bolger at Bolger@TheEEA.org, 914-591-7600, ext. 230.