Brand Engagement 360 Guide to Implementation

Kicking off the new Enterprise Engagement Alliance Brand Engagement 360 Knowledge Management program with the Association of National Advertisers, this primer on Brand Engagement 360 is prepared for marketing and agency management ready to implement a strategic brand engagement process that includes its internal and other stakeholders. These can include employees, distribution and supply chain partners, communities, volunteers, donors etc. This article, which includes a case study on Northwell Health, a leading NYC area health care system, summarizes the two key phases of the process: 1) Strategic brand purpose definition and 2) Implementation. Neither require major investments in time and money and in fact are designed to save both over time while enhancing performance and stakeholder experiences. These processes are based on over 40 years of academic research and processes time-tested in the world of total quality management in factories around the world. Click here for a PDF version of the deck used to present the content of this primer.
Click here for the Brand Engagement 360 table of contents for the ANA library.
Click here for a complete library of links to information on human capital management and Stakeholder Capitalism.
Click here for the ANA library for the Incentive, Rewards, and Recognition business
Click here or scroll down for a list of engagement solution providers committed to effective practices.
By
Bruce Bolger
Brand Engagement 360—A Holistic Look at Your Brand and Value Proposition
Step 1: Strategic Brand Purpose Definition
Step 2: Implementation
Northwell Health Implementation
Solution Providers Committed to Effective Practices
While this primer on Brand Engagement 360 and internal branding addresses the practical tasks involved with engaging internal audiences in an updated brand proposition or story, it is designed for any organization seeking to enhance performance and stakeholder experiences by: clarifying their brand purpose, mission, values, and goals in a way that fosters the proactive involvement of all stakeholders—customers, employees, supply chain and distribution partners, communities, donors, volunteers, or anyone who contributes to long-term success. It's a practical guide for implementing the principles of Environmental, Social, Governance (ESG) and Stakeholder Capitalism in a way that enhances returns for investors by creating value for customers, employees, supply chain and distribution partners, communities and the environment.
The marketing world is abuzz with two inter-related topics:
What some say is the waning influence of CMOs and the role of marketing in the C-suite today (see ANA: Marketers Need to Pivot From Tasks to Solutions).
The increasing interest among investors, customers, employees and communities in brand purpose and the issues related to Environmental, Social, Governance, increasingly known as Stakeholder Capitalism, and how this may affect marketing (see ANA: The Growing Importance of ESG) or the ANA Growth Agenda.
This primer, produced by the
Enterprise Engagement Alliance,
an outreach and education organization, and publisher of
ESM
, is illustrated by a case study with
Northwell Health
, one of the largest employers in the New York City tri-state area. It demonstrates the concrete opportunity that Brand Engagement 360 provides not only for organizations to sustainably enhance performance and stakeholder experiences but for both chief human resources officers and chief marketing officers and the agencies that serve them to significantly enhance the value they contribute to their organizations. The opportunity is to make the connection between CX (customer experience), EX (employee experience), financial results, and stakeholder experiences to sustainably enhance brand equity and organizational value over time.
For overall information on the implementation principles of a stakeholder approach to management and marketing,
click here
. For a review of the types of services provided by the new breed of engagement agencies serving this marketplace,
click here
. The Enterprise Engagement Alliance's content is developed with input from multiple sources, including its
Stakeholder Management
Advisory Board.
Brand Engagement 360—A Holistic Look at Your Brand and Value Proposition
Brand Engagement 360 describes an implementation process for enhancing brand equity, organizational performance, and stakeholder experiences by establishing a transparent brand purpose, values, goals, and objectives in a way that fosters the proactive involvement and alignment of all your stakeholders---customers, employees, distribution and supply chain partners, and communities--in what your organization is trying to accomplish. It is increasingly known as
Stakeholder Capitalism
, closely related to the ESG (Environmental, Social, Governance) movement.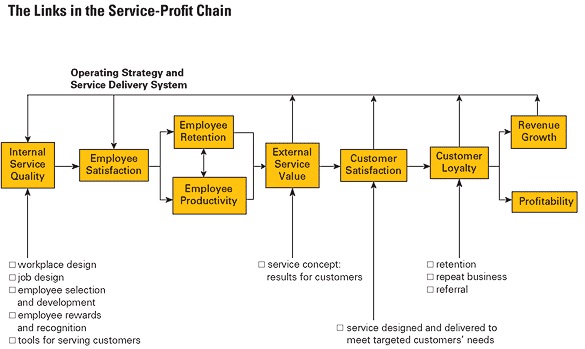 It is based on a 40-year-old academic area of study known as
Stakeholder Engagement
or Stakeholder Theory
, which have produced over 100 studies demonstrating a clear link between sustainable performance and having stakeholders across the enterprise engaged in a common purpose, mission, values, goals, and objectives. The same principles began to be applied in business during the
Total Quality Management
revolution of the 1980s and the work of people well known in their times, such as
W. Edward Deming
,
Peter Drucker
,
Tom Peters, Don Peppers, Curt Coffman, Jim Harter, Marcus Buckingham,
and
James Heskett, Leonard Schlesinger, and W. Earl Sasser's classic Service Value Profit Chain
, which they developed in the 1990s. The Enterprise Engagement Alliance created an implementation framework for
Enterprise Engagement
in 2009 based on a decade of research through the
Forum for People Performance Management and Measurement
at the
Medill School of Journalism, Media, and Integrated Marketing Communications
at
Northwestern University
All these business innovators from the last century recognized that having engaged and aligned stakeholders led by a highly committed CEO were critical to any attempt to sustainably enhance quality, but even today these systems rarely are applied outside of manufacturing.
Josh Berson
, a widely followed human resources analyst, writes in his new book
Irresistable
, that today only about 12% of organizations have effective people management practices, and he's not even including customer, distribution and supply chain partner, or community engagement.
Ironically, the ESG movement has gained traction because it is being led not only by a new generation of employees, customers, and communities who care about how organizations treat them and the environment but because investors have recognized the connection between having highly engaged employees and customers. See this
Harvard Business Review report
on the connection between employee experience and performance or
click here
for additional resources demonstrating why human capital has become what many call the last bastion of value creation. Investors are putting pressure on boards and CEOs to explain their stakeholder engagement strategies and metrics. The US Securities & Exchange Commission now requires human capital disclosures as does the European Union and the UK of companies generally with 500 or more employees.
The process of developing a 360-degree brand to align the interests of all key stakeholders involves two key steps: 1) Strategic brand purpose definition, and 2) implementation. This primer provides guidance for anyone involved with an internal branding effort who feels they can skip Step 1, but it is almost guaranteed that the results will achieve a far greater and more measurable impact if the process starts with Step 1, development of an authentic brand purpose, values, goals, objectives, and metrics embodied in a formal business plan.
This Brand Engagement 360 process is based on practices long established in the world of total quality management and outlined in
ISO 10018 People Engagement
standards designed to help organizations in all industries apply these practices.
As the
Northwell Health case study
shows, this is a process that depends upon the passionate support of the CEO; in this case, operationally led by the CMO in terms of funding; taking charge of developing and defining the brand proposition, and implementing a plan in conjunction with the CHRO (chief human resources officer) to achieve clear and measurable goals related to patient and employee satisfaction and retention.
The Enterprise Engagement implementation chart assumes CEO involvement. If the CEO is not involved, or the process is not strategic and systematic, you can generally skip to Step 2 below.
Step 1: Strategic Brand Purpose Definition
As with any business effort, the Brand Engagement process begins with goals and objectives. Is the rebranding effort designed to fundamentally address the brand's purpose, how it creates value through which stakeholders, and how to enhance performance by aligning their interests? Or, is the exercise more tactical, related to a new logo, promotional campaign, or simply to inform and remind over time an organization's stakeholders of a new brand story or value proposition? If your current use case falls into the latter category, you can skip to Step 2, Implementation.
Strategic Brand Purpose Definition
is a process to ensure that your brand has a clear purpose, a "why" that all
engaged
employees, customers, or other stakeholders can express in one way or another if asked, with a link to measurable performance and stakeholder experience metrics. Ideally, the outcome of this process includes a formal business plan with a holistic implementation plan, roles and responsibilities, clear methodologies, metrics, and a process of continuous improvement. This brand purpose and business plan process, conducted annually, usually involves no more than several days of research and meetings, often best finalized at an off-site meeting in a process designed to foster consensus. The plan is maintained through weekly, bi-weekly, monthly, and or quarterly meetings with a clear agenda focused on priorities, metrics, and action steps involving leaders across the enterprise to ensure alignment. Brand purpose is the standard by which all organizational practices are to be held and prioritized.
Having a clear brand purpose is more than a marketing slogan, it defines the values by which an organization will prioritize decisions and by which it expects to be judged by its investors, customers, employees, and other key stakeholders. Clarity of purpose sets expectations and empowers employees to make decisions based on clear principles and, perhaps most importantly, addresses what the business influencer
Simon Sinek
has identified as the importance of "why." Ideally, the brand purpose includes a means of measuring whether it is delivering on its purpose with clear metrics, the impact on performance and stakeholder experiences, and how its processes can be improved over time.
A recent research study by professors at
Baylor University
finds a link between purpose, ethics, and commitment and the importance of taking a holistic approach that addresses the multiple ways to engage employees.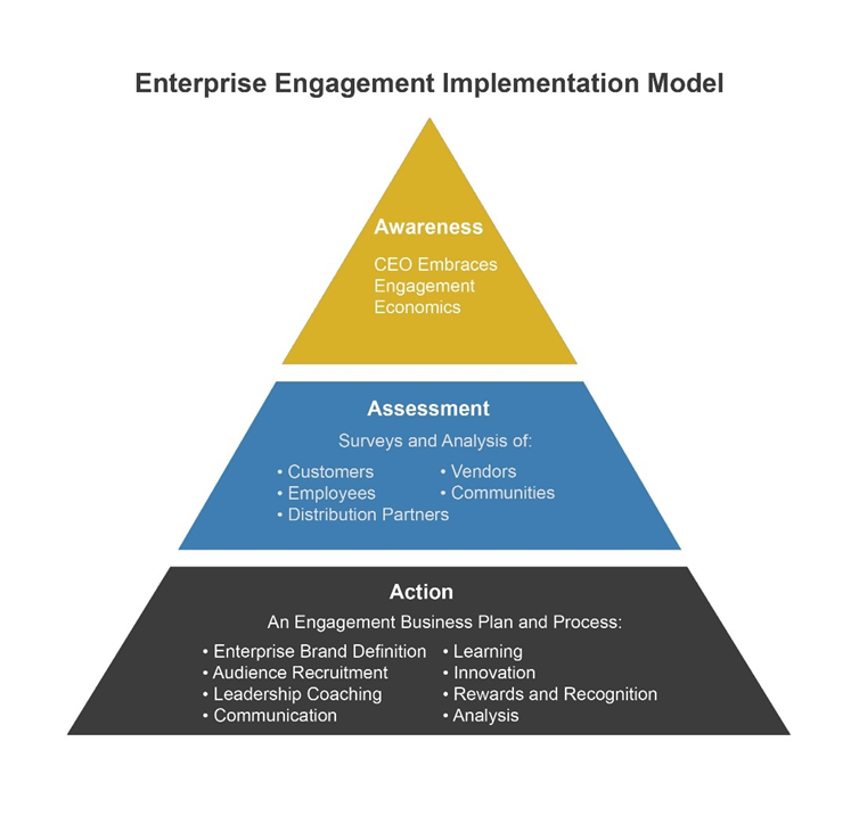 As described in the implementation chart, the brand purpose decision involves an assessment and cross-functional involvement process that crowdsources ideas from all key stakeholders in a systematic way to identify the brand's most compelling value position not only to customers and investors but to employees, distribution and supply chain partners, communities, or any stakeholders whose engagement can enhance performance or stakeholder experiences.
The result is overall business plan (no more than 6-10 pages) that outlines:
The Brand Purpose and value proposition to all stakeholders
Who's in charge across the enterprise and stakeholders
The specific means it will be communicated
How the promises will be fulfilled by whom, and how
Which metrics will be used for continuous improvement and how
Ideally, your Brand Engagement business plan will address all the ways your organization is addressing people in a way that contributes not only to bottom line success over time but to better experiences for all stakeholders.
The following metrics can be used to connect key stakeholder engagement factors with financial results:
Revenues, costs, profitability, willingness to refer of customers, employees
Diversity inclusion effectiveness by stakeholder group
Wellness and safety of stakeholders
Sales, profits, share price
Click here
for an example of a model approach to people engagement management and reporting that includes a clear purpose; methodologies organized by key stakeholder engagement categories, metrics, and continuous improvement processes.
Northwell Case Study, Step 1. Strategic design.
In the case of Northwell Health, the goal was to launch a new brand to the enormous New York City area consumer marketplace to consolidate the multiple, long-established hospitals it had purchased under a single new name and story. Before the consumer roll-out, it decided to start with the over 60,000 employees in dozens of hospitals and hundreds of ambulatory locations throughout the tri-state New York City area under the new Northwell Health branding that focused on patient satisfaction through employee engagement.
Under the direction of
Ramon Soto
,
still Senior Vice President and CMO for Northwell Health. Northwell, headquartered in Great Neck, NY, as he explained at the time: "Our brand promise is simply an articulation of the value we create as an organization, and it's our employees who create that value every day. We believe that in a service-delivery world it's critical that employees are delivering on the brand promise and providing a superior customer experience. Thus, it was critical to us that they believe in the brand and evangelize our promise to our customers. Also, given our size, we thought there was a wonderful opportunity to mobilize 61,000 brand ambassadors well before we launched our new name and brand into the marketplace."
The organization's mission statement is "to improve the health and quality of life for the people and communities we service by providing world-class service and patient-centered care."
According to those interviewed for this article, the process had the complete support of CEO
Michael Dowling
, whose "town hall" and management by walking around management style would be an important part of the process.
ROI measurement.
The goal was to drive employee and customer satisfaction to the 90th percentile on a national scale; to lower turnover and costs of recruitment and also to enhance the wellness of our employees" through various campaigns designed to foster community. Employee churn was and remains high in the health care industry, especially since the pandemic, but Northwell retains this program.
Step 2: Implementation
The No. 3 error made by organizations in internal marketing--following No. 1 not having the CEO's active support and No. 1 lacking a clear purpose and brand value proposition--is a siloed inconsistent launch with unclear measures and little to no continuous improvement process. Supported by this recent research by
Baylor University
, the best results occur when the brand proposition becomes embedded in all the ways organizations engage with people, including:
Assessment and feedback processes
Employee communications (newsletters, events, promotional give-aways, etc.)
Training
Incentive and recognition programs
Social recognition and peer-to-peer and manager-to-peer rewards
Employee resource groups
Loyalty processes
Innovation and collaboration
Job design
Wellness and safety
Qualitative and quantitative analytics linked to financial results, such as: Human Capital ROI; Human Capital Value Add; Revenues, Costs, Profitability, and Willingness to Refer of Customers and Employees; Diversity, Equity, Inclusion effectiveness; and wellness and safety.
For many organizations, integrating a coherent process across these organizational siloes can involve multiple decision makers who may or may not have the interest and bandwith to systematically support the Brand Engagement business plan.
Today, multiple
Enterprise and Employee Engagement technologies
make it easier to rapidly align and integrate key levers of engagement targeted at different audiences under the direction of those responsible.
The key caveat to success in any people enterprise is passionate, authentic CEO support, without which almost all such efforts fizzle and become just another initiative
du jour
.
Northwell Health Implementation
This case study is based on a Northwell Brand Engagement 360 effort launched in 2019 that continues today under the same senior leadership using the same employee engagement applications.
Recognizing the need to take a strategic and holistic approach to engaging their 61,000 (now 80,000) employees at the time scattered across a wide area, Northwell licensed an employee engagement application to create a smart phone portal supporting all the communications, learning, events, rewards and recognition aligned to communicate the new brand and the employee experience. These technologies are known as Employee recognition or engagement or increasingly as
Enterprise Engagement
platforms.
The program documented in this case study, launched in 2019, continues today, perhaps because
Michael Dowling
, the CEO, is still in charge, and because Northwell still uses the same
employee engagement application
as part of its overall ongoing internal brand engagement effort.
According to
Ally Bunin
, Assistant Vice President of Corporate Communications at the time, "The employee app is integrated with Northwell's employee database and allows for near instantaneous distribution of messages and content, including documents, multi-media, and live events. (The organization also launched a new wellness initiative called "Taking care of yourself so you can take care of others.")
She explains at the time of the launch, "We're going to leverage this tool for as much as we can to connect and engage our team, and as a gateway to tools they need to do their jobs. Employees want to do the right thing, but we don't always make it easy to keep up with all they have to do, so accessibility to information is important. We'll put our learning module on the app so they can get it on the go. We'll be pushing information from holiday schedules to how to request a day off to our rewards and recognition programs, suggestion programs and more." The organization is also revamping its rewards and recognition programs to not only promote wellness, but also the patient experience and to encourage the employee actions that will create patient satisfaction. Employees can earn points redeemable for tangible rewards.
"We need to enable our leaders to drive this strategy, because the CEO can't do it alone," explains Bunin at the time. "It's not just an HR initiative. We do a lot of coaching and town halls to promote great leadership across the organization – but it takes more than that."
So why is Northwell's chief marketing officer willing to help fund internal marketing out of his marketing budget? "An engaged workforce believing and articulating our story was well worth the investment," says CMO Soto. "While the overall investment is large, the incremental investment to drive employee engagement and excitement is actually quite small. We believe a well-articulated execution of our story and differentiated position in the marketplace can help shift share on a marginal basis and drive outcomes."
We asked Soto if he believes that this type of integrated customer-employee branding will be critical to marketing success in the future. "We honestly could not have imagined executing this brand transformation without first engaging our workforce," he says. "There's tremendous pride in the success we've built to date, but relatively little market awareness of who we are. We've seen our employees rally around our rebranding efforts, and our sense is they'll feel tremendous pride in its public execution."
Joe Moscola,
the company's Senior Vice President and Chief Human Resources Officer, notes that with a large workforce spread over a dense geography, "our employees represent a very captive audience with a huge degree of influence, both internally and externally. Given the rapid pace of change in the healthcare business, creating a partnership between human resources and marketing is not only important, it's essential. In addition, the competition for market share and talent in order to deliver upon our vision and mission make it critical for us to work together to accomplish our goals."
For CHRO Moscola, working with Marketing creates opportunity. "Given our training and experiences, we approach a challenge from a different perspective," he says. "When you have a good working relationship and are able to appreciate the respective viewpoints, great things will happen. Human resources needs to continually evolve from a technology standpoint, particularly our understanding of how to leverage digital and social media. Creating those tools and attracting talent with those skill sets is essential to being innovative and creating a competitive advantage."
Solution Providers Committed to Effective Practices
The following organizations support the EEA's effort to promote the effective strategic and systematic management of stakeholders across the enterprise to optimize brand engagement.


Brand Engagement 360 Supporters

Bucket-list experiences
---
Master the "S" of Environmental, Social, Governance (ESG), A.k.a. Stakeholder Capitalism
The Enterprise Engagement Alliance at TheEEA.org is the world's first and only organization that focuses on outreach, certification and training, and advisory services to help organizations achieve their goals by fostering the proactive involvement of all stakeholders. This includes customers, employees, distribution and supply chain partners, and communities, or anyone connected to an organization's success.
Training and Thought Leadership
Engagement Digital Media and Marketplaces
The EEA Human Capital Management and ROI of Engagement YouTube channel features a growing library of 30- to 60-minute panel discussions with leading experts in all areas of engagement and total rewards.
Enterprise Engagement Advisory Services
Click here for complete information on Enterprise Engagement Alliance benefits and to join.
For more information: Contact Bruce Bolger at Bolger@TheICEE.org or call 914-591-7600, ext. 230.