New Book Focuses on "Making Things Right at Work"
This book by Gary Chapman, Jennifer M Thomas, and Dr. Paul White, founder and CEO of culture company Appreciation at Work, provides guidance on how to reduce conflict at work.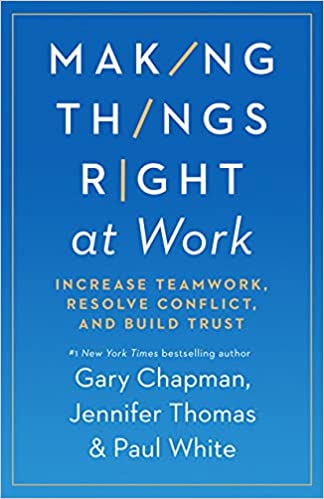 Making Things Right at Work: Increase Teamwork, Resolve Conflict, and Build Trust
addresses the challenges of conflict at work at how to address it.
According to co-author Dr. Paul White, "Conflict at work happens—a lot. And it is a major source of stress for both supervisors and employees. In fact, it shouldn't take you but a few seconds to
recall a tense moment in your workplace."
Dr. White believes "The cost of workplace conflict is huge—both to us as individuals and to our organizations. One study found that, on average, each employee spends 2.1 hours every week (or one day per month) dealing with conflict in some way—either being directly involved in a disagreement or managing an issue between coworkers."
In addition to the time lost dealing with conflict, "there is the personal cost of the stress in terms of
headaches, upset stomachs, high blood pressure, and loss of sleep."
Making Things Right at Work is written to help readers understand the sources of conflict, how to keep conflicts from "exploding" out of control and provides practical ways to calm the waters. Topics covered include:
1. Where do conflicts come from?
2. How to keep conflicts from exploding?
3. What to do when you've messed up?
4. How to get past hurt and offense?
5. Building and rebuilding trust?
Dr. White's Appreciation at Work advisory service provides customized presentations for organizations seeking to help employees address these and other conflict-related issues.
For More Information
Paul White, Ph.D.
President, Appreciation at Work
316-681-4431
---
Master the "S" of Environmental, Social, Governance (ESG), A.k.a. Stakeholder Capitalism
The Enterprise Engagement Alliance at
TheEEA.org
is the world's first and only organization that focuses on outreach, certification and training, and advisory services to help organizations achieve their goals by fostering the proactive involvement of all stakeholders. This includes customers, employees, distribution and supply chain partners, and communities, or anyone connected to an organization's success.
Training and Thought Leadership
Enterprise Engagement Advisory Services
For more information:
Contact Bruce Bolger at
Bolger@TheICEE.org
or call 914-591-7600, ext. 230.