Engagement Agency Adds to Managed Outsourcing Services
In responding to a growing number of requests from organizations and solution providers for help with human capital management design and reporting, and assistance finding appropriate engagement technologies and services, the Engagement Agency continues to expand its selection of offerings with the addition of Customer Experience and Strategic Communications advisory and managed outsourcing services.
The Engagement Agency is making it easier for organizations to find the right types of solutions for their business needs through its managed outsourcing service, says Bruce Bolger, Engagement Agency founder. With the addition of the new Customer Experience and Strategic Communications practice areas, the Engagement Agency now covers nine tactical areas of Enterprise Engagement.

And more based on client needs.
The Engagement Agency's
Customer Experience
Group Senior Advisors are
Rick Garlick
, Ph.D., Vice President, Magid and
Alex Mead
,
Executive Director, Customer Service Experience.
Dr. Garlick has extensive experience at the front lines of implementing the customer experience across the entire organizational value chain. He also has formed a strategic roadmap in which brand strategy, employee experience, incentives, etc. result in 'irrational' commitment-- enhanced loyalty where customers will travel farther, pay a premium price, and ignore competitors to purchase a product or service. Mead
manages contact center, customer service and operations teams, driving CX innovation, delivering top class customer experiences, operations efficiency and customer loyalty.
Skills include CX, UX, CRM strategy, digital transformation and hands-on leadership.
Bruce Bolger
, Founder of
The Enterprise Engagement Alliance
, the Engagement Agency's parent company, heads up the
Strategic Communications Group
. Bolger has dozens of years in content marketing, having founded the Selling Communications business development company in 1995 and the Sales Marketing Network online information service that year, which exists today as
EnterpriseEngagement.org
.
The Engagement Agency's managed outsourcing business responds to increasing requests in all areas of business for human capital management strategies, reporting, gap analyses, and resource selection, such as in this current project with an
application development company
. "The goal is to provide organizations around the world rapid access to experts in the context of a strategic that can either help them develop and oversee the right strategy or local experts or solutions who can," explains Bruce Bolger, Founder of the Engagement Agency. "Our goal is to help organizations avoid the temptation of bright shiny objects."
Each of the Engagement Agency practice areas is overseen by one or more experts in the subject who, in coordination with Engagement Agency resources, help identify the best solutions for the client based on the strategic and tactical objectives and a transparent, return-on-investment-based statement of work.
The emerging field of Enterprise Engagement, the implementation process for the "S" of Environmental, Social, Governance (ESG) management, increasingly known as Stakeholder Capitalism, requires not only the ability to develop ROI-based human capital management plans and reporting strategies, but also to better utilize and align all the tools of engagement. With its decades of experience, extensive education and certification platforms, and large network of expert resources, the Engagement Agency believes it is uniquely designed to help clients develop and implement a strategic human capital management plan to optimize organizational performance and identify the ideal solutions.
For More Information
Bruce Bolger
Founder, The Engagement Agency
914-591-7600, ext. 230
Bolger@TheICEE.org
---
Master the Principles of Stakeholder Capitalism And Implementation Through Enterprise Engagement
Education, Certifications, and Information to Activate
Stakeholder Capitalism Available Nowhere Else
A complete learning, certification, and information program and a course syllabus for educators.
Training and Certification
Enterprise Engagement Alliance Education: Certified Engagement Practitioner; Advanced Engaged Practitioner, and Certified Engagement Solution Provider learning and certification programs on how to implement Stakeholder Capitalism principles at the tactical level.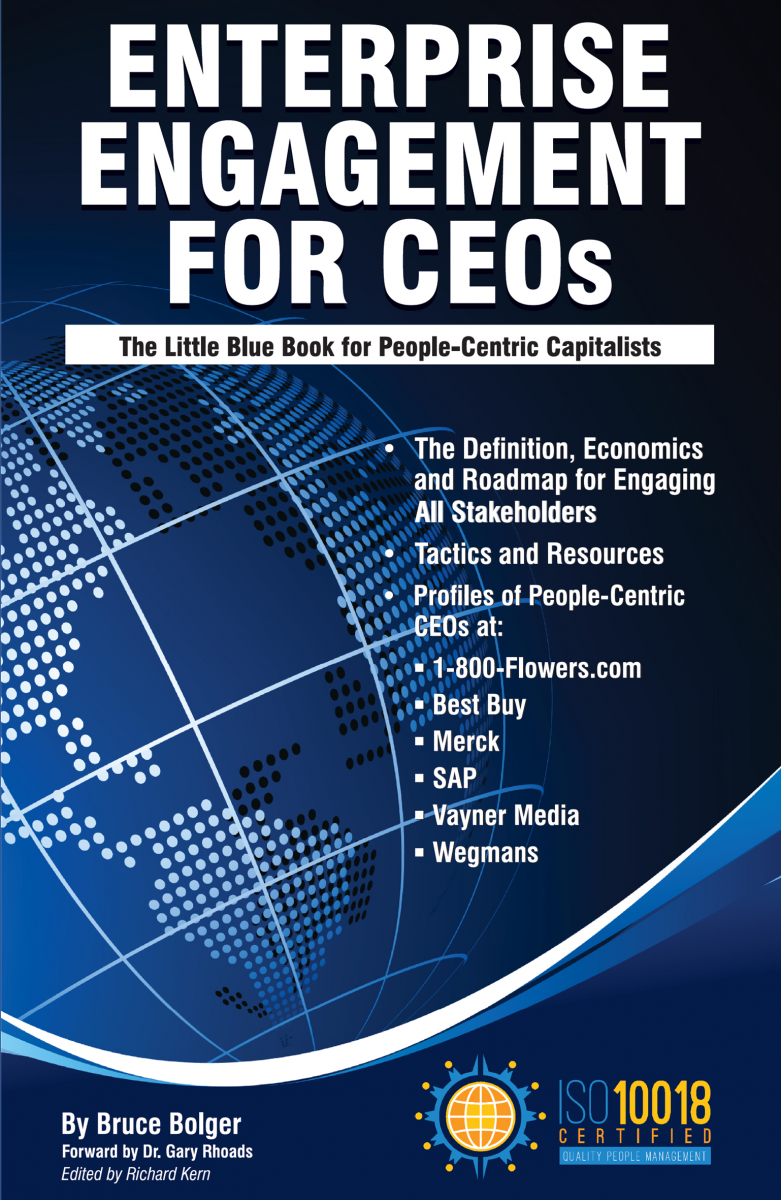 Join the EEA to begin your certification process or see our other resources below.
THE ONLY BOOKS ON STAKEHOLDER CAPITALISM IMPLEMENTATION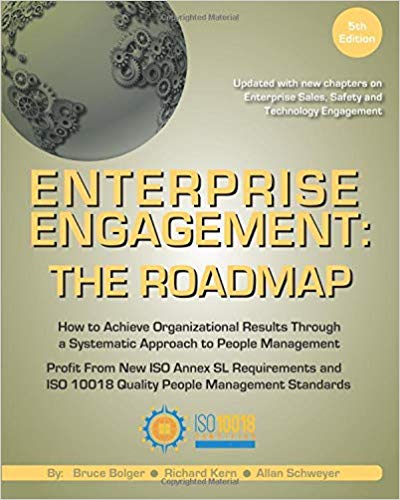 Enterprise Engagement: The Roadmap 5th Edition
The first and most comprehensive book on Enterprise Engagement and the new ISO 9001 and ISO 10018 quality people management standards. Includes 36 chapters detailing how to better integrate and align engagement efforts across the enterprise. (312 pages, $36.)
OTHER RESOURCES TO ACTUALIZE STAKEHOLDER CAPITALISM
Communities:
The
Enterprise Engagement Alliance and Advocate
and the
Brand Media Coalition
free resource centers offering access to the latest research, news, and case studies; discounts, promotions, referrals, and commissions, when appropriate to third-party solution providers from participating coalition solution provider members.
Enterprise Engagement
Resources:
EEXAdvisors.com provides the only curated online marketplace to access hundreds of solution providers in all areas of human capital management and enterprise engagement throughout the world.
Online Overview:
10-minute short course: click here for a 10-minute introduction to Enterprise Engagement and ISO standards from the Coggno.com learning platform.
Services:
• The Engagement Agency at EngagementAgency.net, offering: complete support services for employers, solution providers, and technology firms seeking to profit from formal engagement practices for themselves or their clients, including Brand and Capability audits for solution providers to make sure their products and services are up to date.
• C-Suite Advisory Service—Education of boards, investors, and C-suite executives on the economics, framework, and implementation processes of Enterprise Engagement.
• Speakers Bureau—Select the right speaker on any aspect of engagement for your next event.
• Mergers and Acquisitions. The Engagement Agency's Mergers and Acquisition group is aware of multiple companies seeking to purchase firms in the engagement field. Contact Michael Mazer in confidence if your company is potentially for sale at 303-320-3777.
Enterprise Engagement Benchmark Tools: The Enterprise Engagement Alliance offers three tools to help organizations profit from Engagement. Click here to access the tools.
• ROI of Engagement Calculator. Use this tool to determine the potential return-on-investment of an engagement strategy.
• EE Benchmark Indicator. Confidentially benchmark your organization's Enterprise Engagement practices against organizations and best practices.
• Compare Your Company's Level of Engagement. Quickly compare your organization's level of engagement to those of others based on the same criteria as the EEA's Engaged Company Stock Index.
• Gauge Your Personal Level of Engagement. This survey, donated by Horsepower, enables individuals to gauge their own personal levels of engagement.
For more information, contact Bruce Bolger at Bolger@TheEEA.org, 914-591-7600, ext. 230.