Wikipedia Publishes Entry on Stakeholder Capitalism
Wikipedia beats Dictionary.com and Merriam Webster to the punch with publication of a thorough review of Stakeholder Capitalism submitted by the EEA. It includes a discussion about the definition, history, benefits, etymology, and cites many of the early founders.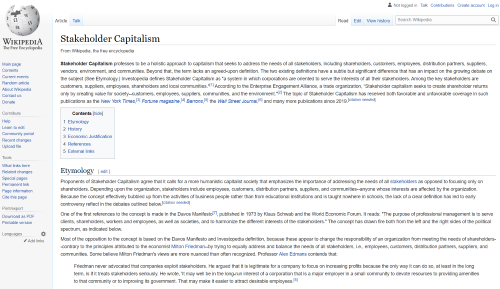 Reflecting the potential interest in the subject of
Stakeholder Capitalism
, within a day of its publication, the new Wikipedia entry of Stakeholder Capitalism, submitted by the Enterprise Engagement Alliance, received criticism that it was providing biased, unsubstantiated information, as well as a similar comment on Linked in--even though the entry includes nearly 40 citations reflecting opposition from the left and the right.
It took over six months following the rejection of the first draft for this version to be published on Wikipedia. The Wikipedia entry provides an overview of the history, etymology, different points of views, and potential financial benefits.
The Enterprise Engagement Alliance also published the Wikipedia entry for the term "
Enterprise Engagement
" in 2010.
---
Master the "S" of Environmental, Social, Governance (ESG), A.k.a. Stakeholder Capitalism
The Enterprise Engagement Alliance at
TheEEA.org
is the world's first and only organization that focuses on outreach, certification and training, and advisory services to help organizations achieve their goals by fostering the proactive involvement of all stakeholders. This includes customers, employees, distribution and supply chain partners, and communities, or anyone connected to an organization's success.
Training and Thought Leadership
Enterprise Engagement Advisory Services
For more information:
Contact Bruce Bolger at
Bolger@TheICEE.org
or call 914-591-7600, ext. 230.