IRF Study Examines When to Use Individual or Team-Based Incentives, or Both
A new report from the Incentive Research Foundation focuses on the use of teams and incentives in business and cites research to help identify the best strategy for different situations.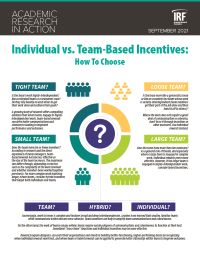 When to use individual or team-based incentives is the subject of a new report from the Incentive Research Foundation. The question has become especially relevant now that organizations are grappling with how to manage collaboration in the new work-from-home environment.
Click here
for the full report.
Here are some of the key findings, based on a meta-analysis of multiple academic studies.
•
Over the past two decades, teams have become increasingly important in work. Today, teamwork and collaboration consume about 80% of the typical knowledge worker's day, the report finds.
•
Though most employees agree that team-based work is essential, only one-quarter prefer to work in teams versus alone.
•
For incentives to do good rather than harm, they should encourage the types of actions and behaviors appropriate to the work of the team in question – the right incentives at the right time. Leaders and reward program designers should first determine whether the work of the team is highly interdependent (a tight team) versus loosely dependent (loose team).
•
Leaders may favor incentives and rewards aimed at individual effort and outcomes because they are comparatively easier to measure and administer. Yet individual rewards might contribute very little to team dynamics and performance, or even detract from them. For example, the crucial hubs in high-performing teams – people who sacrifice personal achievement to assist team members – will rarely qualify for individual rewards. Organizations that overlook and/or discourage these crucial connectors ("sacrificers") might pay a steep price.
•
Team-based incentives and rewards may prove more difficult to administer (particularly in larger teams) because individuals come to their teams with different goals and contribute varying levels of effort and/or value. Team rewards may even introduce issues of "free-riding," where individuals let their teammates do most of the work while sharing equally in the reward.
•
The study finds that a significant body of research questions the very efficacy of team-based incentives. For example, in a 2010 meta-review published in the Journal of Business Research, the authors conclude: "Despite hundreds of studies examining team rewards, the conditions under which team rewards will be effective are unclear" These factors may combine to make leaders reluctant to consider team-based incentives and may also discourage their advisors (reward program designers and consultants) from recommending them.
•
The report also finds a growing body of research, however, offering compelling evidence that where small teams engage in highly interdependent work, team-based rewards drive better performance and outcomes than individual rewards. This effect may be heightened in the presence of intergroup competition – where small, interdependent teams compete with other small teams.
•
Researchers have found that in small, highly-interdependent teams, hybrid rewards – which recognize team achievements and the behaviors and productivity of individual team members – can drive the best results of all. Other research, however, finds that team-based rewards alone prove most effective in the same circumstances.
•
The research cited is consistent in finding that team-based and hybrid rewards are most effective where the work in small teams is "highly-interdependent."
•
In cases in which teams do not perform highly interdependent work, leaders should probably not use incentives (or other means) to encourage unnecessary communications and cohesion. Here, individual incentives are likely more effective.
---
Master the "S" of Environmental, Social, Governance (ESG), A.k.a. Stakeholder Capitalism
The Enterprise Engagement Alliance at
TheEEA.org
is the world's first and only organization that focuses on outreach, certification and training, and advisory services to help organizations achieve their goals by fostering the proactive involvement of all stakeholders. This includes customers, employees, distribution and supply chain partners, and communities, or anyone connected to an organization's success.
Training and Thought Leadership
Enterprise Engagement Advisory Services
For more information:
Contact Bruce Bolger at
Bolger@TheICEE.org
or call 914-591-7600, ext. 230.