2022 Outlook: Stakeholder Capitalism and Engagement Technologies Gain Traction
No matter what happens with the pandemic, the economic forces driving Stakeholder Capitalism and the use of engagement technologies to connect the enterprise continue to compel management to become more strategic in their people management.
Here's a rundown of the top trends to anticipate for 2022 in the field of Enterprise Engagement, which addresses the "S" of Environmental, Social, Governance (ESG), aka Stakeholder Capitalism. Much of what happens will be affected in part by the outcome of the pandemic.
While no one knows how the pandemic will unfold this year, based on the advances in treatments and the course of the new variant toward a more widespread but less lethal disease, one can dare hope that the worst of this pandemic will last about the same time as the Spanish Flu, which was about 26 months. That makes May 2022 the target month for a return to hope for quasi-normalcy. Society still has not yet had a chance to celebrate the true end to this pandemic and when it does, get ready for yet a lot more news for observers to write about.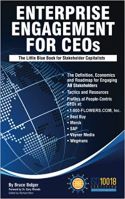 While Stakeholder Capitalism gains traction, confusion continues. The continued focus of investors on ESG issues is forcing more boards, CEOs, and management teams to address people issues in business, but too many people remain confused about Stakeholder Capitalism. It is not, as many believe, simply a means of placating stakeholders and regulators by donating money to good causes or complying with disclosures, it's a strategy to create wealth for investors by creating value for customers, employees, supply chain and distribution partners, and communities. See
Continued gradual shift toward a stakeholder approach to management.
Whether or not organizations yet use the term Stakeholder Capitalism, more are recognizing the potential efficiencies and return-on-investment of better aligning their marketing promises to what they can consistently deliver. As more companies begin to uncover how much poor service and quality is really costing them, they will look for more ways to break down the siloes standing in the way of promise delivery. A recent Conference Board report found that 92% of its executive members believe the rise of Stakeholder Capitalism is inevitable and over 80% believe it is already affecting their organizations. See
ESM: Conference Board Report
.
The first 2022 survey result of the
Just Capital survey
of American opinions finds that "addressing the needs of all stakeholders" ranks No. 3 in what survey respondents expect from businesses, after "paying a fair and living wage" and producing more in the US.
Increased interest in human capital management. Only because of increasing pressure from investors, more companies are beginning to analyze the opportunity for sustainable value creation by looking at customers, employees, supply chain and distribution partners, and communities as assets, rather than "sunk" costs of doing business. The human capital analytics field has more than proven that the old excuse that investments in people can't be measured were long ago debunked. Yes, we can measure the return on investment and value-add of human capital; the cost of having unhappy customers, employees, and distribution and supply chain partners, the cost of low engagement, accidents, and poor health. The shocking truth is that most CEOs and CFOs do not know these costs, and, if they do, have simply accepted them as a cost-of-doing business. Fewer and fewer investors are buying it.
New forms of leadership. As investors recognize the importance of people as assets, they will seek CEOs who are not only empathetic but who know how to engage the entire enterprise in the organization's mission, values, and goals. This requires much more then empathy; it requires a clear understanding of the economics of stakeholder management and of the methods used to break down siloes and align activities to achieve tangible measurable people goals involving all stakeholders.
More board involvement. Given that expenditures for employees, customers, supply chain, distribution partners and communities generally make up more than 50% of the typical organization's annual expenditures and as much if not more of their risks, boards have no choice but to focus more attention on this yet untapped source of value creation for many organizations.
Greater recognition of value of human capital reporting. Spurred by pressures from investors and regulators, and growing agreement that there's a concrete connection between effective people management and sustainable financial results and reduced risks, more CEOs have recognized they can no longer ignore the importance of internal and external human capital reporting. In fact, one can argue that an effective human capital report joins Great Places to Work and customer service review programs such as J.D. Powers as a means of building stakeholder trust.
The work-from-home phenomenon is now permanent. Anyone who thinks that society will ever go back to a regimented 9-5 workplace are living in the last century. The pandemic simply sped up a trend already well underway because of technology and the growing importance of work-life balance that calls into question the value of commuting an hour or more every day. This not only will affect how we engage employees but also our business customers, distribution, and supply chain partners, almost all of whom have changed the way they interact with and buy from companies.
Online shopping may have reached its limit. As it did with other trends, the pandemic rapidly accelerated the shift to online shopping and evidence is growing it has begun to max out. If anything, the work-at-home phenomenon will accelerate the demand for experiential and entertaining shopping, as it's an easy excuse to get out of the house.
Experiential travel will experience a boon when the new normal returns. Working at home will make people even more eager to travel to explore, learn about and taste what they've seen on their televisions, and get to know the people they have met on video meetings. This will apply both to leisure travel and business events.
Business travel will never be the same. Of course business travel will return, and with a vengeance once people feel safe and the masks are gone, but many of us will be more selective about distinguishing routine meetings and basic training best handled by video meetings and meaningful relationship building, which is still best conducted in person and through shared experiences.
Greater use of Enterprise Engagement technology. Hopelessly confused by all the human resources technology "stacks" and other buzzwords, few executives are aware of already available Enterprise Engagement technologies that make it possible to engage with all of their stakeholders through a single platform that can include communications, branding, assessment and feedback, innovation and collaboration, incentive and promotions, social and tangible recognition, DEI (diversity, equity, and inclusion), etc., with unparalleled behavior-based analytics that make today's performance appraisals seem primitive and subjective. This is the equivalent of the CRM (Customer Relationship Management) revolution that took off in the 1990s and will likely attract a lot of capital since only about 5% of companies today have an Enterprise Engagement technology platform in place.

The ROI of DEI. The murder of George Floyd by a policeman set off a wave of guilt-shaming that has given rise to a near epidemic of "diversity theater"; that is, organizations making donations and pledges or indulging in initiatives that pretend to address the racial inequalities plaguing our society and business. The only true solution to addressing inequality is to demonstrate that it is not only better business to optimize an organization's marketplace for customers, talent, supply chain and distribution partners and communities in which to operate, it is critical to optimize performance and to reduce risks.
The potential impact of the Metaverse. It is safe to say that within a decade or two we'll be talking
about the effectiveness of totally immersive virtual reality events in which for all intents and purposes we're in the same room with others sharing the same experiences. What seems science fiction to one generation is table stakes for the next generation that grows up with it. People forget how long change really takes in business, as well as in society. The customer relationship management "revolution," which began in the 1980s, still is not a mature industry by the standards of the visionaries who helped found the field.
To learn more about Stakeholder Capitalism and how to implement it, purchase these two books published by the Enterprise Engagement Alliance:
Enterprise Engagement for CEOs: The Little Blue Book for Stakeholder Capitalists, a short overview for boards, CEOs, and other senior management, and
Enterprise Engagement: The Roadmapt, a detailed guide for practitioners.
---
Master the "S" of Environmental, Social, Governance (ESG), A.k.a. Stakeholder Capitalism
The Enterprise Engagement Alliance at
TheEEA.org
is the world's first and only organization that focuses on outreach, certification and training, and advisory services to help organizations achieve their goals by fostering the proactive involvement of all stakeholders. This includes customers, employees, distribution and supply chain partners, and communities, or anyone connected to an organization's success.
Training and Thought Leadership
Engagement Digital Media and Marketplaces
Enterprise Engagement Advisory Services
For more information:
Contact Bruce Bolger at
Bolger@TheICEE.org
or call 914-591-7600, ext. 230.