State Street Report: More Companies Address Human Capital as a Critical Issue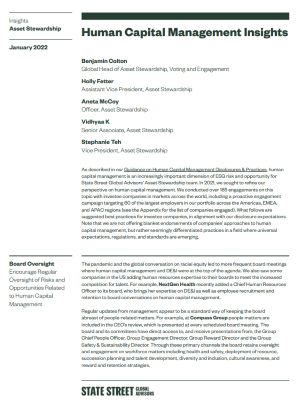 "
Human Capital Management Insights
" finds that the topics of Human Capital Management and Diversity, Equity, and Inclusion" have gained considerable traction with investors and organizational boards, based on 185 engagements with companies around the world.
In this report recently published by State Street Global Advisors, "Against the backdrop of the pandemic, a tight labor market, and the 'Great Resignation,' employers cannot afford to take their employees for granted. Companies are increasingly dedicating resources to attracting and retaining quality talent, which we hope is not a short-term fix but rather indicative of a more sustainable shift. As such, we expect companies to describe how their approach to human capital management advances their firm's long-term business strategy."
The report was authored by Benjamin Colton, Global Head of Asset Stewardship; Holly Fetter, Assistant Vice President, Asset Stewardship; Aneta McCoy, Officer, Asset Stewardship and Vidhyaa K, Senior Associate.
Many companies interviewed say that their human capital management strategies are an increasingly important source of differentiation. Almost all companies report an "increasingly competitive environment for talent and are offering a variety of resources in an attempt to recruit and retain employees, including flexible work arrangements, mental health and other benefits, pay raises, professional development programming, and tuition reimbursements." Investors seek "deeper insight into how (if at all) companies are enhancing their human capital management strategies given the current labor market dynamics."
More companies are helping employees prepare for the "changing skills required in the future workplace. Nestlé SA, the Swiss food and drink company, is raising the digital expertise of its people — it has scaled up its learning platforms and established digital academies that provide access to relevant, easy-to-consume learning materials that enable employees to acquire applicable digital skills."
Employee voice is seen as a particularly important dimension of human capital management, "given the leverage that many workers currently have in the labor market, as well as the reality of high-profile whistleblowing incidents, strikes, and walkouts…Employees are one of the best sources to identify material ESG (Environmental, Social, Governance) risks." The report says that CVS Health "has a thorough and rigorous survey for all its employees (designed by an employee with a PhD in organizational behavior), the results of which are translated into action plans that managers are measured against in their performance reviews."
As for Diversity, Equity, and Inclusion, "Our engagements suggested that while some companies are just beginning their DEI journeys and focusing primarily on enhancing representation, many companies are expanding their efforts to focus on equity and inclusion."
Key Recommendations
•
Board oversight: encourage regular oversight of risks and opportunities related to human capital management.
•
Connect directors with employees' perspectives.
•
Discuss human capital management at the board and in a specific committee.
•
Develop human capital management strategies that advance the long-term business strategy.
•
Leverage human capital management as a source of differentiation.
•
Adapt the human capital management strategy to meet shifting market dynamics.
•
Train your workforce to succeed over the long term.
•
Measure and manage human capital management performance measures.
•
Ensure that the workforce composition is transparent and aligned with the firm's human capital management strategy.
•
Leverage-pay strategies to advance the firm's approach to human capital management.
•
Incentivize a focus on human capital management through compensation.
•
Employees should feel engaged, included, and empowered.
•
Find creative ways to solicit ideas and feedback from the workforce, and act on their suggestions when appropriate.
•
Ensure employee surveys are effective and actionable.
•
Leverage employee networks to solicit input.
•
Disclose employee turnover rates.
•
Articulate a comprehensive approach to human capital management, with DEI at the center.
---
Master the "S" of Environmental, Social, Governance (ESG), A.k.a. Stakeholder Capitalism
The Enterprise Engagement Alliance at
TheEEA.org
is the world's first and only organization that focuses on outreach, certification and training, and advisory services to help organizations achieve their goals by fostering the proactive involvement of all stakeholders. This includes customers, employees, distribution and supply chain partners, and communities, or anyone connected to an organization's success.
Training and Thought Leadership
Enterprise Engagement Advisory Services
For more information:
Contact Bruce Bolger at
Bolger@TheICEE.org
or call 914-591-7600, ext. 230.