Gallup Records Decline in US Employee Engagement
For the first year in more than a decade, the percentage of engaged workers in the US declined in 2021, according to a recently released
Gallup survey
of American employees. "Just over one-third of employees (34%) were engaged, and 16% were actively disengaged in their work and workplace, based on a random sample of 57,022 full- and part-time employees. This compares with 36% engaged and 14% actively disengaged in 2020.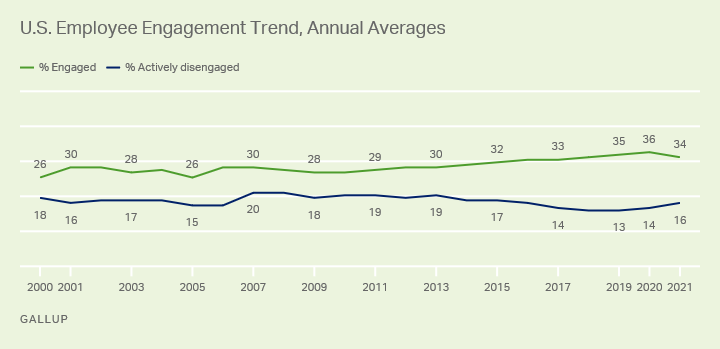 In the six months of 2021, Gallup found that 36% of workers were engaged, matching the 2020 result., offset by a drop in second half of 2021. The Gallup report says this could be due to "record increases in employee quit rates, implementing vaccine mandates, and planning for various combinations of remote and on-site work while trying to match worker preferences with leadership expectations."
The ratio of engaged to actively disengaged workers in the US is 2.1 to 1, down from 2.6 to 1 in 2020.
Gallup measures employee engagement by asking random samples of the working population about specific workplace elements that link to many organizational outcomes, including profitability, productivity, customer service, retention, safety and overall wellbeing.
These elements include "clarity of expectations, opportunities for development and opinions counting at work. In short, engaged employees are involved in and enthusiastic about their work and workplace. Actively disengaged employees are disgruntled and disloyal because most of their workplace needs are unmet." The "greatest declines were in clarity of expectations, having the right materials and equipment, and the opportunity for workers to do what they do best."
Employees who experienced the most decline in engagement last year "included healthcare or social assistance workers (a 12-percentage-point decline) and managers (a seven-point decline). Specifically, healthcare workers saw the greatest declines in feeling that someone at work cares about them, someone encourages their development, they have an opportunity to do what they do best, they have clear expectations, they have the materials and equipment they need to do their job right, and their opinions count at work. Managers saw the steepest declines in feeling that they have clear expectations and someone who encourages their development."
The report
found that "pandemic-driven economic, workplace, and mental and physical health challenges have hit healthcare workers and managers particularly hard. Gallup recently reported a significant increase in manager burnout in 2021."
---
Master the "S" of Environmental, Social, Governance (ESG), A.k.a. Stakeholder Capitalism
The Enterprise Engagement Alliance at
TheEEA.org
is the world's first and only organization that focuses on outreach, certification and training, and advisory services to help organizations achieve their goals by fostering the proactive involvement of all stakeholders. This includes customers, employees, distribution and supply chain partners, and communities, or anyone connected to an organization's success.
Training and Thought Leadership
Enterprise Engagement Advisory Services
For more information:
Contact Bruce Bolger at
Bolger@TheICEE.org
or call 914-591-7600, ext. 230.