Stakeholder Management Professor Questions the Benefits of ESG Spotlight
Jeff Harrison has taught Stakeholder Management, the underlying theory of Stakeholder Capitalism, conducted research, written papers, and taught students on the subject for about 35 years, most recently as the W. David Robbins Chair in Strategic Management at the Robins School of Business, University of Richmond since 2004. So, what does he think about all the controversy around Environmental, Social Governance (ESG), increasingly known as Stakeholder Capitalism and the spotlight that has put on his field?

(To learn about Stakeholder Management from the founder of the theory, attend a live Enterprise Engagement Alliance curriculum introductory class on Tue., June 7, at 1 pm with Edward Freeman, Professor of Business Administration at the Darden Business School at the University of Virginia, and author of the original 1984 work--Strategic Management: A Stakeholder Approach. Register here.)

Suddenly a field little known outside of academic circles, the students of its professors, and a small percentage of businesspeople or the general public has caught the limelight. To Professor
Jeff Harrison
, that is both good and bad.
From the progressive community,
New York Times
Global Economic reporter Peter S. Goodman takes aim at Stakeholder Capitalists in his recent book, Davos Man (See
ESM: Davos Man Author on the Dangers of Stakeholder Capitalism
.) and recently tells his LinkedIn followers "Personally, I don't subscribe to the 'Woke Capitalism' attacks. The point is, the whole thing is a charade that's actually strengthened by the cries of Woke Capitalism. In reality, Stakeholder Capitalism is a fancy term for pretending to change while doubling down on the status quo."
In a recent interview, Harrison says he is pleased with the new attention being focused on the field and believes that awareness is growing fast in the business and academic community. It is his understanding that the
Stakeholder Strategy
Interest Group of the
Strategic Management Society
now has hundreds of members around the world.
On the other hand, he expresses frustration with the mischaracterization and incorrect definition of the field by both the left and the right and worries this could delay the necessary focus on how actually to implement the principles of Stakeholder Capitalism on a practical level. "My argument all along is that it is just better business, built on a very strong moral foundation. Stakeholder Management is about creating value. If you are unethical, you can't create real, long-lasting value for stakeholders. You might make money for a while, but eventually the unethical practices will catch up with you." Harrison notes that the field of Stakeholder Management precedes the ESG movement, and that both the ESG and CSR (Corporate Social Responsibility) movements draw upon its principles, rather than the other way around, as many critics of Stakeholder Capitalism appear to believe.
Harrison has created a
useful library of Stakeholder Management literature
clearly showing that the roots of Stakeholder Capitalism go back decades and was not a result of the ESG and CSR movements, nor of the Business Roundtable 2019 proclamation redefining the charter of a corporation to address the needs of all stakeholders, not just shareholders. "While it may be true that firms that take exceptionally good care
of their stakeholders may also be good corporate citizens, the objective behind stakeholder theory is effective and efficient management in an increasingly turbulent business environment rather than pursuing social welfare for its own sake."
As in any field, Stakeholder Management professors fall into camps. "One seems very interested in ethics and the moral foundations of Stakeholder Management. These are the 'normative' folks. They are much more interested in the moral foundations for why we should treat stakeholders in a particular way, as opposed to the instrumentalists, who are about creating more value and running organizations more efficiently and effectively. As Edward Freeman, the author of the recognized classic work on Stakeholder Theory points out, it's a big tent. We don't turn away anyone who supports a stakeholder approach to management."
Harrison says, "I am on the instrumental side. We want to see how these practices are creating value for stakeholders. Money is one form of value and very important. However, there are other sources of value that go beyond money. For example, feeling good about a company or a product or your job also has a lot of value to people. What's the value of feeling good in dollar terms?"
Publix Supermarkets, he says, is a good example of an instrumentalist approach to Stakeholder Capitalism. Based on
a case study
he conducted on the company in 2018, "its prices are slightly higher than its competition and it invests far more in its employees, yet it does far better financially than most of its competitors who pay their employees less. They also give back to the community in noticeable ways and treat their customers like royalty."
In addition to the recent media and now political attention on Stakeholder Capitalism, another big change is the interest of students. Ten years ago, there was little interest in the concept. "Now, students are eager to learn. This generation is all about conscientious management."
The big question everyone is now asking, he says, at both the executive level and from students, is how to implement Stakeholder Capitalism and its principles at the practical level. What are the most effective practices?
To learn about Stakeholder Management from the founder of the theory, attend a live Enterprise Engagement Alliance curriculum introductory class on
Tue., June 7, at 1 pm
with
Edward Freeman
, Professor of Business Administration at the Darden Business School at the University of Virginia, and author of the original 1984 work--
Strategic Management: A Stakeholder Approach
.
Register here
.
Click here to get ESM news delivered each week.
---
Master the "S" of Environmental, Social, Governance (ESG), A.k.a. Stakeholder Capitalism
The Enterprise Engagement Alliance at
TheEEA.org
is the world's first and only organization that focuses on outreach, certification and training, and advisory services to help organizations achieve their goals by fostering the proactive involvement of all stakeholders. This includes customers, employees, distribution and supply chain partners, and communities, or anyone connected to an organization's success.
Training and Thought Leadership
Engagement Digital Media and Marketplaces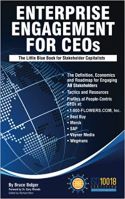 Enterprise Engagement Advisory Services
Click here
for complete information on Enterprise Engagement Alliance benefits and to join.
For more information:
Contact Bruce Bolger at
Bolger@TheICEE.org
or call 914-591-7600, ext. 230.