Kazoo -- From Recognition to Continuous Performance Conversations
As recently reported in RRN, Kazoo, a recognition and performance management firm with offices in Chicago and Austin, has purchased WorkTango, a Toronto, Ont.-based voice of the employee company, to create an integrated platform supporting employee experience, recognition and rewards, continuous performance conversations, and employee voice.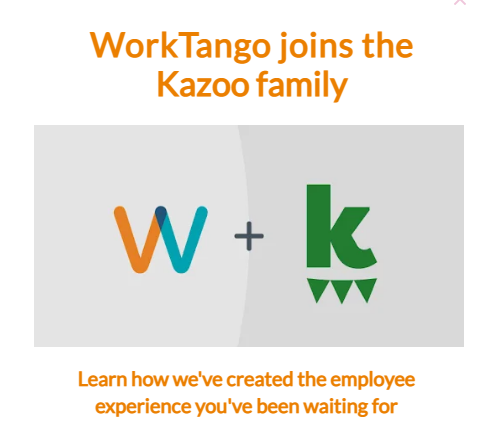 Reflecting the trend toward greater human resources process alignment predicted by RRN, the Kazoo and WorkTango platform is designed to provide clients with an end-to-end employee engagement process on a single platform. Kazoo integrates technologies the company acquired to manage employee experience, individual performance management, recognition, and rewards, and, with the recent acquisition of WorkTango, employee voice. See
RRN: Employee Experience Firm Kazoo Buys WorkTango Employee Voice Platform
.
Kazoo is owned by the private equity firm Vista Equity Partners, which has significant holdings in the human resources (HR) tech category.
If one looks at the company's product lineup,
Patrick Manzo
, Chief Executive Officer, says, it is clear how Kazoo's suite can disrupt traditional recognition. "We help organizations authentically listen to and measure how employees feel; evaluate the effectiveness of communications and recognition; set clear employee goals and expectations; align employees' goals with the company, and maximize success through continuous feedback and a great rewards program that supports the overall organizational mission. What's critical today is to align employee success and engagement to critical organizational goals."
Manzo believes that a human resources marketplace once considered red ocean is now blue ocean in terms of opportunity. "In the last few decades CRM (customer relationship management) wasn't even a category. Now it's part of business. The same opportunity is here with employee engagement. Digital tools will eventually become the way we do business."
Rob Catalano
, Founder of WorkTango, agrees. "We were coming into the second year of a pandemic seeing a huge acceleration in our business as leaders sought ways to connect with their employees in the new remote-work world. Together, our companies offer a key differentiator in the market, namely: the integrated ability to measure the employee experience, alongside tools to build accountability around improving that experience, and recognition and reward solutions to amplify the key behaviors your organization wants to see more of."
Kazoo's growth will benefit from what Manzo believes is the major shift toward a more business-oriented human resources field. "This is finally it. I have been in this space for 16 years. I have seen people leaders becoming more central to addressing key business questions. In the past, a big part of the job was risk reduction, and it is still part of the job. But now the focus is on how HR produces value and supports key performance goals."
This in turn, he believes, will drive a shift in human resources from filtering data for compliance purposes to enabling leaders with real-time insights that go way beyond recognition to address what companies are accomplishing to build a meaningful employee experience that supports organizational goals, down to meaningful OKRs (objectives and key results) for each employee.
So how much does Kazoo get involved with advisory services to ensure that organizations achieve the best results from the technology?
"Having a customer success program is critical. We want to do our best in the implementation process to ensure that clients achieve the best results. We want to make sure that our programs are not bright shiny objects but in fact are aligned with organizational goals."
Manzo
adds that it remains to be seen how Kazoo will position and price professional services support in the coming years, but believes that process design is critical to success. "We know that professional services are a key value driver."
It's a decision that will depend in part on the internal capabilities of clients to design and manage processes and the types of distribution partners it develops in the human resources field, Catalano observes. "We already have a few distribution partners who bring their own expertise to design and implementation supported by our technology, and that is certainly a direction we will continue to explore."
As of now, the level of support depends on which of Kazoo's services the client is buying and their maturity level in strategic people management practices.
The integration of technology across various aspects of the employee experience is also reflected in the management team, Manzo stresses. "Through our acquisitions, most recently of WorkTango, we are adding to our senior management team experts in all areas of the field."
Backed with the resources of Vista, Manzo believes Kazoo is well positioned to profit from a field ripe for significant growth. "Look at how the pandemic has accelerated the decentralization and digitalization of the workforce. Look at the demographics and trends indicating there will be fewer people than jobs for years to come. Then look at the generational changing of the guard; Millennials are now the largest component of the workforce. They have different attitudes, skills, and motivations than other generations. This is playing out across America. With only about 5% of organizations having a digital employee engagement and experience strategy, it's safe to say that Kazoo is in a category with the same potential upside as CRM in the early 1990s."
For More Information
Tel. 877-445-2966;
Click here to get ESM news delivered each week.
---
Master the "S" of Environmental, Social, Governance (ESG), A.k.a. Stakeholder Capitalism
The Enterprise Engagement Alliance at
TheEEA.org
is the world's first and only organization that focuses on outreach, certification and training, and advisory services to help organizations achieve their goals by fostering the proactive involvement of all stakeholders. This includes customers, employees, distribution and supply chain partners, and communities, or anyone connected to an organization's success.
Training and Thought Leadership
Engagement Digital Media and Marketplaces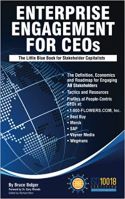 Enterprise Engagement Advisory Services
Click here
for complete information on Enterprise Engagement Alliance benefits and to join.
For more information:
Contact Bruce Bolger at
Bolger@TheICEE.org
or call 914-591-7600, ext. 230.