Latest News: Gallup-World Cost of Disengagement $7.8 Trillion; Top Lawyer Focuses on ESG...
Gallup report finds huge waste due to disengagement….Preet Bharara, prominent former prosecutor, joins law firm to focus on ESG (Environmental, Social, Governance)…Stakeholder Capitalism, human capital management and Total Rewards covered in recent RTN OTT TV program.
Gallup--$7.8 Trillion in Waste Due to Disengagement
In this
Gallup report
by Ryan Pendell, "Employees who are not engaged or who are actively disengaged cost the world $7.8 trillion in lost productivity, according to Gallup's State of the Global Workplace: 2022 Report. That's equal to 11% of global GDP."
According to the report, 21% of employees worldwide are engaged in their work, roughly the same as the year before.
Stress among the world's workers reached an all-time high— again, the report finds: 44% of employees experience stress a lot of the previous day.
Europe and South Asia were hit particularly hard in 2021 by COVID-19 waves, asserts the report. Only 11% of employees in South Asia say they are thriving — the lowest regional state of wellbeing in the world.
The job market made a remarkable recovery in the US and Canada region: 45% of employees say now is a good time to find a job, up slightly from last year, but less than the record 55% in 2019.
For all their challenges, the US and Canada remains the best region in the world to be an employee, the report concludes, coming up high in rankings for employee engagement, job opportunities, well-being, and living comfortably.
Preet Bharara, Prominent Former Prosecutor, to Focus on ESG
According to
an article
by Benjamin Weisner and Ben Protess writing for The New York Times, Preet Bharara, the former federal prosecutor, is joining WilmerHale, an apparently well-connected law firm where many former government officials have landed.
The article reports that Bharara expects "his role to include a focus on issues of ESG, or environmental, social and governance. That area can include how companies treat employees, encourage diversity and equitable practices and battle climate change. ESG has attracted some pushback, particularly from conservative activists who have derided it as "woke capitalism."
But Bharara is quoted as saying: "Simple-minded criticism of this issue fails to appreciate its complexity and its emerging importance."
Stakeholder Capitalism, Enterprise Engagement, Total Rewards Featured on RVN OTT Show
This episode of the show, the Advocates, with hosts Al Cini and Mark Iorio shared the following points about Stakeholder Capitalism, Human Capital Management, and Total Rewards in an interview with Bruce Bolger, Enterprise Engagement Alliance founder.
Guest Bruce Bolger, Founder, the
Enterprise Engagement Alliance
explains to The Advocates hosts Al Cini and Mark Iorio and their viewers the economics and framework of Enterprise Engagement. He provides background on the history of Stakeholder Capitalism dating and talks about the value of Total Rewards as part of an overall engagement strategy.
•
Stakeholder Capitalism goes back 40 years ago as a better approach to business, long before Environmental, Social, Governance (ESG) and Corporate Social Responsibility (CSR), and has nothing to do with "woke" capitalism.
•
Woke capitalism is indeed alive and well and very legitimate criticism--but both sides are guilty of diverting shareholder resources to the left and/or right causes and politicians based on various pretexts.
•
Stakeholder Capitalism aims to do for people management what ISO 9001 quality management standards helped do for manufacturing--enhance productivity, quality, and experiences for all stakeholders, including their communities and the environment.
•
Some on the left are attacking it because anything connected with making money is suspect, and some on the right are opposed because they fear that the jig is up with an approach to business that extracts wealth for the benefit of a few.
•
Implementation is not rocket science, requires no major change in management processes, and has clear and measurable benefits.
•
While we talk about pay equity, let's not forget fun equity. When baked transparently into the purpose and culture of an organization, let all stakeholders have a chance to enjoy the same perquisites senior executives and top sales performers enjoy.
Click here to get ESM news delivered each week.
---
Master the "S" of Environmental, Social, Governance (ESG), A.k.a. Stakeholder Capitalism
The Enterprise Engagement Alliance at
TheEEA.org
is the world's first and only organization that focuses on outreach, certification and training, and advisory services to help organizations achieve their goals by fostering the proactive involvement of all stakeholders. This includes customers, employees, distribution and supply chain partners, and communities, or anyone connected to an organization's success.
Training and Thought Leadership
Engagement Digital Media and Marketplaces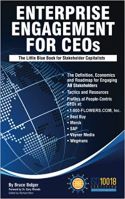 Enterprise Engagement Advisory Services
Click here
for complete information on Enterprise Engagement Alliance benefits and to join.
For more information:
Contact Bruce Bolger at
Bolger@TheICEE.org
or call 914-591-7600, ext. 230.