Your Free Library on Stakeholder Capitalism, Human Capital, and Enterprise Engagement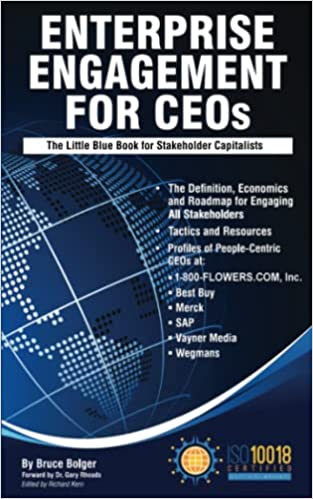 This library of links to information and other resources on Stakeholder Capitalism, Human Capital and Enterprise Engagement is intended to provide an ever-growing, collaborative source for those seeking to move from talk to action or simply seeking to better understand a strategic focus on people in business.

The Enterprise Engagement Alliance has compiled what may be the world's first free library of resources on all aspects of Stakeholder Capitalism and implementation; human capital management and reporting, and Enterprise Engagement principles, implementation processes, and tactics.

Click here to view the complete library. Links are organized under the following categories:

Enterprise Engagement Alliance Resources
Stakeholder Capitalism
Human Capital Management and Reporting
Information About Investors and Economic Pressures
Human Capital Management Tools
ISO Guidelines and Standards
Enterprise Engagement
Tactical Implementation
Stakeholder Capitalism and Human Capital Think Tanks and Advocacy Groups

If you know of organizations, research, or other resources that can help organizations design and implement a strategic approach to management, please email Bolger@TheEEA.org.



---
Master the "S" of Environmental, Social, Governance (ESG), A.k.a. Stakeholder Capitalism
The Enterprise Engagement Alliance at
TheEEA.org
is the world's first and only organization that focuses on outreach, certification and training, and advisory services to help organizations achieve their goals by fostering the proactive involvement of all stakeholders. This includes customers, employees, distribution and supply chain partners, and communities, or anyone connected to an organization's success.
Training and Thought Leadership
Engagement Digital Media and Marketplaces
Enterprise Engagement Advisory Services
Click here for complete information on Enterprise Engagement Alliance benefits and to join.
For more information:
Contact Bruce Bolger at
Bolger@TheICEE.org
or call 914-591-7600, ext. 230.