The Conference Board Holds Open Webinar on Stakeholder Capitalism Feb. 15 at 2PM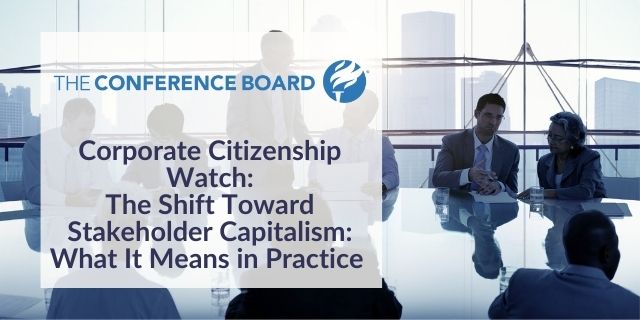 One of the world's leading business think tanks is offering a
free webinar
open to all on Stakeholder Capitalism, Feb. 15 at 2 pm ET.
In promoting this webinar open to all, the Conference Board says that "becoming a more stakeholder-focused company can have significant benefits, but it can involve making changes to the firm's strategy, operations, governance, and communications. It also often requires an evolution in the roles, responsibilities, and culture both at the top of the house and more broadly throughout the organization."
Demonstrating the growing interest in the subject at the highest levels of business, the webcast covers:
How the shift to a multistakeholder focus is affecting decision-making in board rooms and C-suites.
How the shift to stakeholder capitalism can be incorporated into the company's strategy and operations, including its allocation of capital and other resources.
How to engage multiple stakeholders, including nontraditional stakeholders, to better understand and address environmental and social issues.
How boards can adapt to this shift and determine where the firm should sit on the stockholder-to-stakeholder capitalism spectrum.
Moderated by the Conference Board's
Paul Washington
, Executive Director, ESG Center, the panelists are:
---
Master the "S" of Environmental, Social, Governance (ESG), A.k.a. Stakeholder Capitalism
The Enterprise Engagement Alliance at
TheEEA.org
is the world's first and only organization that focuses on outreach, certification and training, and advisory services to help organizations achieve their goals by fostering the proactive involvement of all stakeholders. This includes customers, employees, distribution and supply chain partners, and communities, or anyone connected to an organization's success.
Training and Thought Leadership
Enterprise Engagement Advisory Services
For more information:
Contact Bruce Bolger at
Bolger@TheICEE.org
or call 914-591-7600, ext. 230.