Michelin Human Capital Graphic Tells the Story of Stakeholder Capitalism Implementation
Best known for its tires and restaurant and hotel guides, Michelin is also an example of Stakeholder Capitalism in action. As the graphic Michelin uses to tell its human capital story clearly shows, Stakeholder Capitalism is simply better business.
Consistent with the principles of Stakeholder Capitalism, Michelin publishes a Corporate Sustainability Report with its annual report that also includes human capital reporting. To explain it's overall approach, it publishes a graphic consistent with the principles of Stakeholder Capitalism, demonstrating that this movement in fact is simply better business and has nothing to do with corporatism or "woke capitalism."
Here's how
this graphic
encompasses the implementation of Stakeholder Capitalism by addressing the interests of all stakeholders.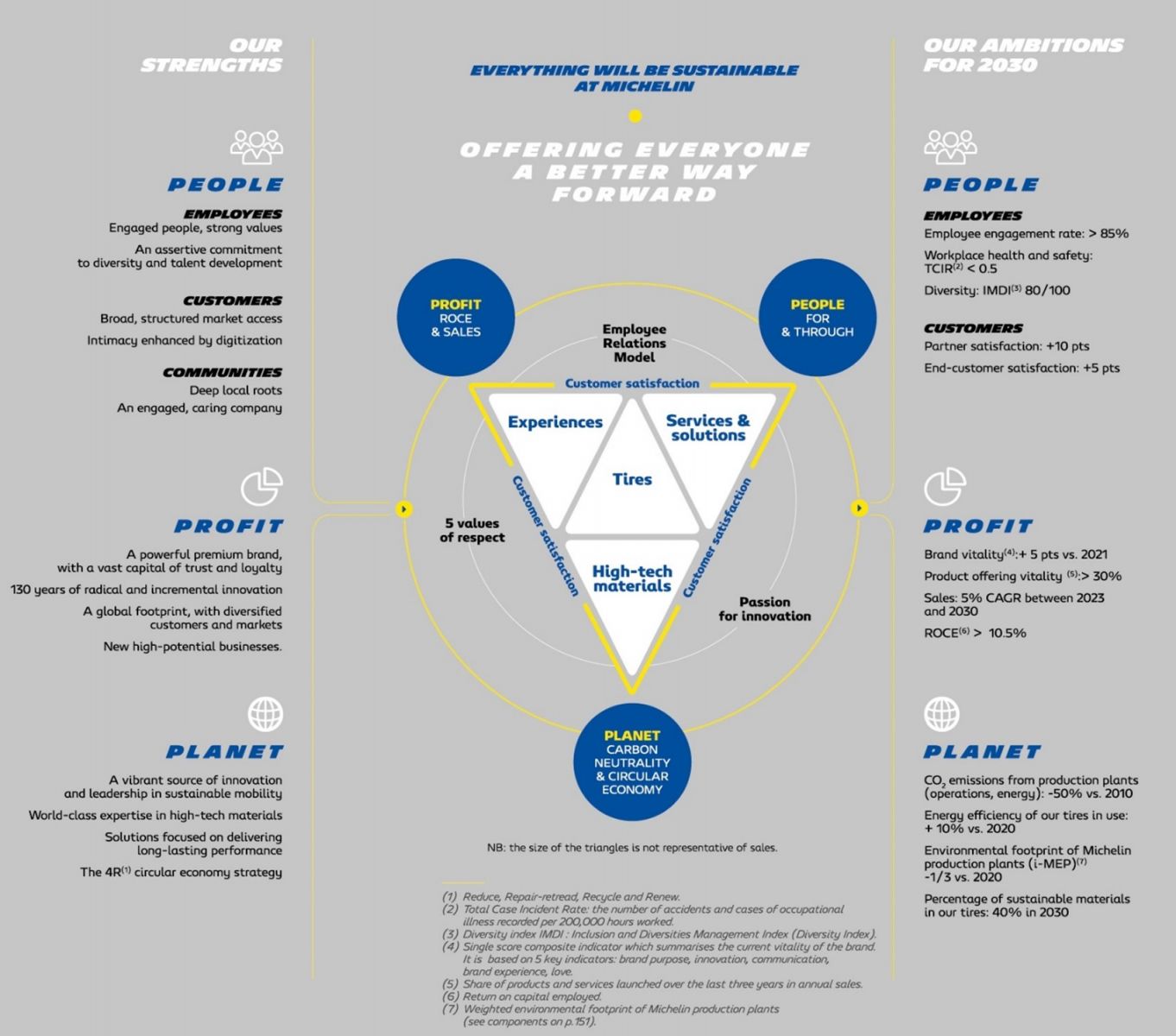 1. The report begins with the fundamental issue of purpose and mission.
"Offering everyone a better way forward" and "Everything will be sustainable."
2. Goals are articulated: "Profit; People, for and through, and Planet, carbon neutrality and circular economy." It defines profit more broadly than the profit/loss statement: "A powerful, premium brand with a vast capital of trust and loyalty; 130 years of radical and incremental innovation; a global footprint with diversified customers and markets; new high-potential businesses."
3. Stakeholders and their inter-connectivity are defined. It shows the customers, employees, and communities—and the products and services that unite them: tires, experiences, services and solutions, high-tech materials. The report highlights the interconnectivity of customers and employees, focusing on employee relations and the companies five values centered on respect, with customer satisfaction at the center.
4. It describes the company's people strengths.
Employees: strong values; an assertive commitment to diversity and talent development.
Customers: broad, structured market access; intimacy enhanced by digitalization.
Communities: deep local roots; an engaged, caring company.
5. It specifies its metrics for people, profit, and planet.
Employees: employee engagement rate; workplace health and safety; and diversity.
Customers: partner satisfaction; end-customer satisfaction.
Profit: brand vitality (an internal score based on brand purpose, innovation, communication; brand experience, love); sales; product offering vitality (share of annual sales by products launched in the last three years) and a calculation of Return on Capital Employed (ROCE).
Environment: carbon-dioxide emissions, energy efficiency, environmental footprint, and percentage of sustainable products used in its tires.
The next step will be for Michelin to have its claims verified by an independent audit.
Click here to get ESM news delivered each week.
---
Master the "S" of Environmental, Social, Governance (ESG), A.k.a. Stakeholder Capitalism
The Enterprise Engagement Alliance at
TheEEA.org
is the world's first and only organization that focuses on outreach, certification and training, and advisory services to help organizations achieve their goals by fostering the proactive involvement of all stakeholders. This includes customers, employees, distribution and supply chain partners, and communities, or anyone connected to an organization's success.
Training and Thought Leadership
Enterprise Engagement Advisory Services
For more information:
Contact Bruce Bolger at
Bolger@TheICEE.org
or call 914-591-7600, ext. 230.