New Organization with Blue Chip Backers Promotes Employee Ownership
Backed by a who's who of public companies, asset managers and other advisory firms, this new organization recently launched with a full-page advertisement in the New York Times to introduce: "Ownership Works."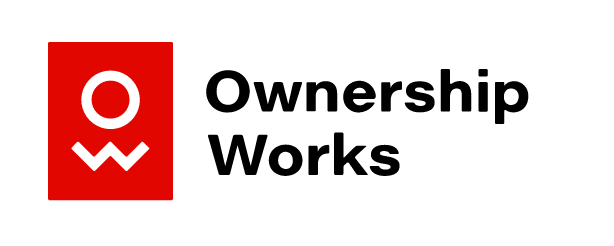 "Today," the ad reads, "
Ownership Works
announces a new movement to increase prosperity through shared ownership at work. Employee ownership can unlock new financial possibilities for wokers, invigorate companies, and help build an inclusive and resilient economy."
Goals for 2030 are to "create hundreds of thousands of new employee-owners generating at least $20 billion of wealth for low- and moderate-income households and people of color."
Founding Ownership Works sponsors include: UBS, JP Morgan Chase, Morgan Stanley, Credit Suisse, Wells Fargo, Citi, Goldman Sachs, Jefferies, Deutsche Bank, Bank of America, JHSBC, the Rockefeller Foundation, Omidyar Network, William Blair, Ford Foundation, EY, KKR, and dozens more.
Click here
for a complete list by category. The backing of this group demonstrates the growing support for Stakeholder Capitalism principles, defined as creating returns for investors by creating value for employees, customers, supply chain and distribution partners, and communities.
The organization's public relations department did not respond to a request for an interview in time for this publication. According to the organization's website, "Equity for all leads to success for all. Ownership Works is on a mission to increase prosperity through shared ownership at work. We're fueling the movement to establish employee ownership as the new standard of socially responsible business and investing – one that creates great places to work and generates superior financial returns for businesses, investors, and employees alike."
The organization says its activities focus on:
"1. Movement Building. Through partnerships, network-building, education, data, and storytelling, we're inspiring a groundswell of interest among business leaders and investors to provide all employees with the opportunity to participate in the value they help create—not only because it's the right thing to do, but also because it's smarter business."
"2. Hands-on Guidance. In collaboration with our founding partners, we're helping public and private companies develop and implement new models of broad-based employee ownership that improve corporate cultures, increase employee engagement and satisfaction, and create an alignment of interests between employees and employer, all of which can support better outcomes for companies and workers."
Management includes former corporate attorneys, experts in financial marketing and business development, private equity, talent management and more. The organization says it offers a variety of solutions to help organizations identify the employee ownership model that is appropriate for their businesses.
The website provides
multiple examples
of employee ownership at work and profiles its management team but does not disclose who or which organization precisely founded it, saying only that a new board of directors will be appointed soon.
Click here to get ESM news delivered each week.
---
Master the "S" of Environmental, Social, Governance (ESG), A.k.a. Stakeholder Capitalism
The Enterprise Engagement Alliance at
TheEEA.org
is the world's first and only organization that focuses on outreach, certification and training, and advisory services to help organizations achieve their goals by fostering the proactive involvement of all stakeholders. This includes customers, employees, distribution and supply chain partners, and communities, or anyone connected to an organization's success.
Training and Thought Leadership
Enterprise Engagement Advisory Services
For more information:
Contact Bruce Bolger at
Bolger@TheICEE.org
or call 914-591-7600, ext. 230.