Professors Hope Stakeholder Capitalism Film Can Wake Up the Masses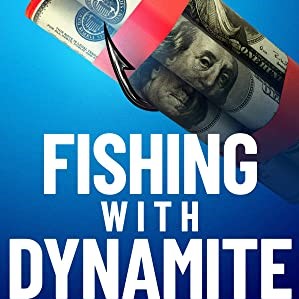 Despite widespread coverage of the Stakeholder Capitalism movement in the business media, the subject is not mentioned in the mainstream media and is largely unknown to citizens, neither in the US nor elsewhere. A group of professors and other interested parties aim to help change that through a documentary, "Fishing with Dynamite," available through Google Play and a few other services. The challenge of course, is getting people to see it.
Click here
to access the full-length version.
To better understand Shareholder Capitalism, imagine fishing with dynamite. Throw a stick of TNT into a lake, and the catch will be instant and plentiful. But afterwards, what is left? The documentary "
Fishing with Dynamite
", directed by Academy Award-winning director Paul Wagner and produced by Bidhan (Bobby) Parmar, Associate Professor of Business Administration at the Darden Business School at the University of Virginia, came about as a result of a conference held on campus on Stakeholder Management several years ago. Attendees, mostly professors and Ph.D. candidates, agreed upon the need to spread the word beyond the academic community and coalesced around the idea of creating a film to help people visualize the concept and impact on lives.
Click here
to access the full length version.
Click here
for a primer on Stakeholder Capitalism.
Little known outside of academic circles is a vibrant community of professors generally in administration and management passionate about
Stakeholder Theory
or Stakeholder Management a concept first developed by Edward Freeman, Professor of Administration at the Darden School of the University of Virginia. (The concept of
Enterprise Engagement
, with which
ESM
readers are familiar, is a practical implementation process of Stakeholder Theory focused on engaging all stakeholders toward common goals and expectations.) Explains R. Edward Freeman, who is featured in the film, "The task of executives is to create as much value as possible for stakeholders without resorting to tradeoffs. Great companies endure because they manage to get stakeholder interests aligned in the same direction."
To broaden awareness for this management approach, Parmar explains, "The idea was to pull together thought leaders from business and the academic world to tell the story through the experiences of living and breathing human beings." The producers deliberately sought views from the left and right of the political spectrum, as well as entrepreneurs and leaders of large businesses, along with business and legal academics. The film features stories and perspectives from:
Scott Beardsley, Dean and Charles C. Abbott Professor of Business Administration, Darden School of Business.
Arthur C. Brooks, Author and Professor of the Practice of Public Leadership, Harvard Kennedy School.
Jeff Cherry, Founder and Executive Director, Conscious Venture Lab.
Jim Collins, Author, Good to Great and Built to Last.
Ben Conniff, Co-Founder and Chief Marketing Officer, Luke's Lobster.
Mark Costa, Chairman and CEO, Eastman.
Frank Dobbin, Henry Ford II Professor of the Social Sciences, Harvard University.
R. Edward Freeman, Elis and Signe Olsson Professor of Business Administration, Darden School of Business at the University of Virginia.
Tom Gardner, Co-Founder, The Motley Fool.
Luke Holden, Co-Founder and CEO, Luke's Lobster.
Michael C. Jensen. Professor Emeritus of Business Administration, Harvard Business School.
John Mackey, CEO, Whole Foods Market and founder of Conscious Capitalism.
Bethany McLean, Contributing Editor, Vanity Fair Magazine and author of The Smartest Guys in the Room: The Amazing Rise and Scandalous Fall of Enron.
Robert Reich, author and Professor of Public Policy, University of California at Berkeley.
Melissa Reiff, CEO, and Kip Tindell, Founder, The Container Store.
One of the ironies of the Stakeholder Capitalism, Parmar says, is the opposition it stirs up from both the left and the right until people better understand the concept. "Those on the left are skeptical and see it as another way corporate America is deceiving the public. Those on the right see it as a means of taking money from shareholders to distribute it to special interests of the CEOs."
The film, he explains, shows how the world arrived at this stage of capitalism and what can be done about it. "No one has a context for the history of making profits. Films are a great genre to give people the space to think. The goal is to get people to ask what they believe about business. In general, folks on the right think that making money is great and let the government (or not) take over the needs of the public. We had just as nuch pushback from left because of their skepticism about capitalism. The purpose of an organization is to make money, but how do you define the best way to make money? If you are going to fish, you can catch a lot of fish if you use dynamite. Or you can do it in a more sustainable way. Capitalism can be a force for good if we raise the bar of how we make money. Too many people have demonized business for too long for them to turn the page. One of the things that hurts the most is that many kids would rather do anything else than go into business. We have squeezed the humanity out of business."
The goal is to have the film seen by as many viewers as possible, and Parmar says he's looking for a way to have it available for free on YouTube. The film came out in the fall of 2019, just before the Covid outbreak, and received some distribution through cable, but the producers have been unable to get it carried by any major streaming channels.
Concludes Parmar, "I think there are meaningful changes being made toward Stakeholder Capitalism. But the 'old story of business' that business is only about maximizing profits for shareholders is deeply entrenched and hard to change. One reason for that is that it provides a lot of simplicity both for business practitioners and for other stakeholders. If you have a hard decision to make, you can simplify it by focusing on profits. If you disagree with a choice a business has made, you can blame it on profit maximization. To accept Stakeholder Capitalism means acknowledging that businesses can have many different purposes and need to juggle and balance multiple goals and relationships. Stakeholder Capitalism requires becoming more comfortable with uncertainty and complexity. There are fewer 'easy answers.' To help Stakeholder Capitalism continue to grow, we need to find and highlight examples of corporate decisions that improve outcomes for stakeholders (including shareholders) while also calling out unethical business practices. For too long, the worst actors in business have represented the entire institution. It's time to focus on businesses that aspire to more and that are doing the work to achieve it, while also accepting that no person or organization is perfect."
For More Information
Bidhan (Bobby) Parmar
Associate Professor of Business Administration
Shannon Smith Emerging Scholar of Business
Tel. 434-962-5465
Click here to get ESM news delivered each week.
---
Master the "S" of Environmental, Social, Governance (ESG), A.k.a. Stakeholder Capitalism
The Enterprise Engagement Alliance at
TheEEA.org
is the world's first and only organization that focuses on outreach, certification and training, and advisory services to help organizations achieve their goals by fostering the proactive involvement of all stakeholders. This includes customers, employees, distribution and supply chain partners, and communities, or anyone connected to an organization's success.
Training and Thought Leadership
Enterprise Engagement Advisory Services
For more information:
Contact Bruce Bolger at
Bolger@TheICEE.org
or call 914-591-7600, ext. 230.