InspireWork Summit NYC, June 22, Offers 10 Free Passes to ESM Readers
Formerly known as the Employee Engagement Conference, The InspireWork Summit returns to New York City on June 22 and offers free passes to the first 10 people who register using the code EEAVIP.
The founders of Inspiring Workplaces believe people and their stories are the biggest source of inspiration, so people are at the heart of the one-day live and hybrid event, it says. Inspiring Workplaces has provided ten VIP passes for
ESM at
EnterpriseEngagement.org
readers on a first come, first serve basis.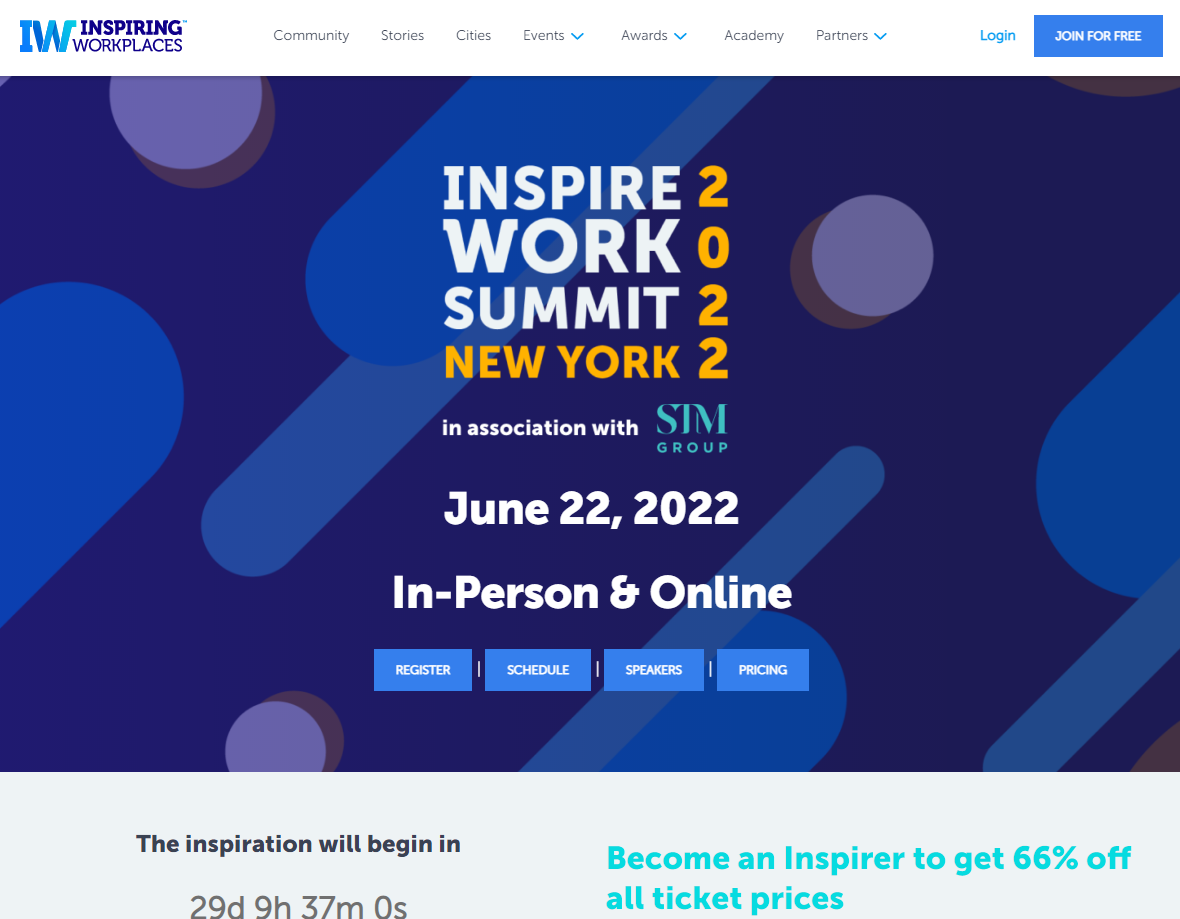 The event will be held at Convene, One Liberty Plaza, in the New York City Financial District.
Click here
to register and use the code
EEAVIP
. After the first free passes are given out, the cost is $149.
According to the producers, which include Inspiring Workplaces in association with STM, an advisory firm, "attendees will leave the Summit inspired and informed with knowledge to take back into their own workplaces." IW says it is bringing together all the learnings, innovations, and expertise from some of the most Inspiring Workplaces across North America, topped with the latest insights from leading thought leaders and experts in the field of employee experience, human resources, employee wellbeing, future of work and diversity and inclusion.
Speakers include:
•
David P. Kasperson, Co-Author, Trust & Inspire, Director of Speed of Trust Speaking & Business Development, Franklin Covey.
•
Cecilia Tse, well-being Strategy Leader, PwC US and Mexico.
•
Dr. Kenya Beard, Associate Provost, Chamberlain University.
•
Mike Winters, Vice President – Process Design Manager, Bank of America.
•
Steph Ryter, Creative Culture Leader, Arity.
•
Robin Washington, Global Vice President of Organizational Development, Keypath Education.
•
Dr Jack Wiley, Author, Organizational Psychologist and Chief Scientific Officer, Engage2Excel.
•
Anne Fulton, Founder and CEO, Fuel50.
•
Lance Haun, VP Market Insights, The Starr Conspiracy.
•
Duke Daehling, VP Government, BetterUp.
•
Mike Lamm, Vice President and Head of People, Monday.com.
•
Bill Staikos, Senior Vice President, Evangelist & Head of Community Engagement, Medallia.
•
Holly Tate, Senior Vice President of Growth, Leadr.
Click here to get ESM news delivered each week.
---
Master the "S" of Environmental, Social, Governance (ESG), A.k.a. Stakeholder Capitalism
The Enterprise Engagement Alliance at
TheEEA.org
is the world's first and only organization that focuses on outreach, certification and training, and advisory services to help organizations achieve their goals by fostering the proactive involvement of all stakeholders. This includes customers, employees, distribution and supply chain partners, and communities, or anyone connected to an organization's success.
Training and Thought Leadership
Enterprise Engagement Advisory Services
For more information:
Contact Bruce Bolger at
Bolger@TheICEE.org
or call 914-591-7600, ext. 230.