EEA Kicks Off ANA Knowledge Center With Presentation on Brand Management 360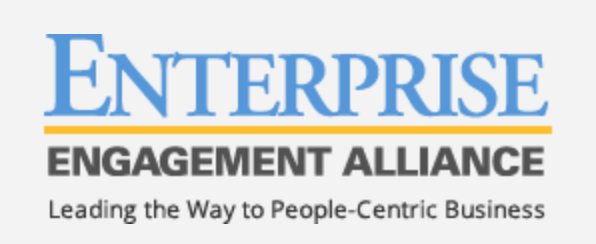 Members of the Brand Management committee of the Association of National Advertisers will learn about "Brand Engagement 360: Marketing in the era of ESG and Stakeholder Capitalism" at its first live meeting since the pandemic on Nov. 15 in New York City. The program is designed to share "a new opportunity for marketing to contribute to the bottom line in terms of higher performance, better stakeholder experiences, and new sales opportunities in business-to-business," explains Bruce Bolger, Enterprise Engagement Alliance founder.



What is Brand Engagement 360
Program Details
Brand Engagement 360 Content for the ANA Knowledge Center

"Brand Engagement 360: Marketing in the era of ESG and Stakeholder Capitalism" will be a topic of the half-day Brand Management Committee of the Association of National Advertisers on Nov. 15 Live attendance is available to ANA members only, but ESM will publish a recap after the meeting.

Click here for a primer on Brand Engagement 360.

This program kicks off the Enterprise Engagement Alliance's participation in the ANA's Knowledge Management Center in which it will share a complete library and ongoing information on all facets of engaging stakeholders across the enterprise. "Advocates of people in business have tried for years to get to the C-suite with this message through human resources management and generally have not succeeded," says Bruce Bolger, founder of the Enterprise Engagement Alliance. "It's time to also focus on the stewards of every organization's asset second only to its people: it's brand."

Brand Engagement 360, he says, is designed to address "a secret frustration of almost everyone in marketing—that people in sales, customer service, manufacturing, and Corporate Social Responsibility often fail to deliver the promises stakeholders request in focus groups and that CMOs are asked to highlight in their campaigns and story-telling." It is also for the majority of members of the Brand Management Committee and the ANA whose organizations have either already embarked on a Stakeholder Capitalism journey, are focused on helping other organizations do so, or who themselves use engagement services and reward experiences as part of their stakeholder engagement processes. Brand Engagement 360 principles align with 10 of the 12 elements of the ANA growth agenda, Bolger points out. These include: Brand Purpose/Brands for Humans; Brand Marketing Innovation; Measurement and Accountability; Data Analytics and Technology; Privacy, Advocacy and Self-Regulation; Talent, Leadership Development; Marketing and Agency Organizational Management; Academic Next-Gen Marketers; Brand Safety and Fraud; Global Sustainability; Diversity, Equity, and Inclusion.

Click here for a list of ANA corporate members and here for a list of solution provider members. The EEA's Council of Solution providers to be announced shortly consists of expert companies in all areas of Stakeholder Engagement and Total Rewards committed to working together to provide clients a holistic engagement solution across the enterprise, including purpose development and 306-degree branding, Enterprise Engagement technologies, assessment and feedback, benefits, all forms of communication, job design, DEI, innovation and collaboration, social recognition, all forms of rewards, analytics, and more.

The EEA-ANA program is based in part on an EEA YouTube show conducted during the height of the pandemic: Advertising and Marketing in the Era of Authenticity, with Matthew Della Croce, Chief Experience Officer, Allison Partners, a global marketing and communications company; Satish Korde, a brand strategy consultant and formerly CEO of GTB, and Allan Steinmetz, CEO, Founder of Inward Strategic Consulting, founded in 1998 and one of the first internal marketing agencies. They discuss the opportunities and challenges for marketers and agencies in the new world of authenticity. The EEA effort is overseen by a council of Engagement and Total Rewards solution providers and other contributors to be announced shortly designed to create a community of expert contributors in all areas of engagement who can work together to provide clients with expert, holistic solutions to engage people across the enterprise.

The Brand Engagement presenter at the Nov. 15 Brand Management Committee in New York is Bruce Bolger, Founder, Enterprise Engagement Alliance, who will speak on Stakeholder Capitalism and implementation and the emerging Stakeholder Engagement marketplace of solutions.

The kick-off meeting is part of a broader effort to provide marketing leaders a practical solution for adding greater value to their organizations by helping to align the interests of all stakeholders. It includes the development of an EEA Brand Engagement Council of solution providers in all areas of engagement making it easier for clients and their agencies to align the enterprise engagement technologies and other solutions in a more efficient manner to create a holistic solution.

Explains Bolger, "Organizations of all sizes are under increasing pressure from investors, customers, employees, and communities to focus on delivering their promises to all their stakeholders, including the environment, in addition to shareholders. This session is for anyone in marketing on the client or agency side seeking new ways to help enhance brand equity, sales, and loyalty by addressing the interests of all stakeholders, not only shareholders in external and internal marketing, but also by providing brands, travel experiences, and engagement services to the $500 billion engagement marketplace."

What is Brand Engagement 360

Outlines Bolger, "This program is for both ANA client and marketing solution members who subscribe to the holistic, stakeholder-focused principles of business leaders such as Richard Branson of Virgin Group, who not only is dedicated to enhancing his company's own brand and performance by engaging all stakeholders in a common purpose but has created a business helping other organizations do the same. Brand Engagement 360 is based on 40 years of academic research on what is known as Stakeholder Theory or Stakeholder Engagement, and is the thinking behind Stakeholder Capitalism. Much of the implementation processes mirror those of Total Quality Management—a CEO-led strategic and systematic approach to business management that aligns the interests of all stakeholders toward a common purpose. This is a big opportunity for CMOs and their agencies to add significant value to their organizations and fill a serious brand leadership void."


Program Details

During the live program, Bolger will offer an overview of information covered in the EEA Brand Engagement 360 library available to ANA members:
What is the difference between ESG, Stakeholder Capitalism, and Woke Capitalism, and what this has to do with brand equity, marketing, and sales.
The forces driving ESG and Stakeholder Capitalism and why the confusion with Woke Capitalism will soon end.
Quick overview of the historical basis for stakeholder engagement.
The link between stakeholder thinking, marketing and brand equity.
What is Brand Engagement 360 and how it is measured.
What are the tools of Brand Engagement 360?
Who's in charge?
That potential role of marketing and agencies and what's holding them back.
The role of little-known Enterprise Engagement technology.
Quick overview of implementation process.
What is the $500 billion engagement business, including $176 billion Incentive, Rewards, and Recognition market, and what this has to do with Brand Engagement 360.

Bolger will also provide a quick overview of the Brand Engagement marketplace, including


The types of services and solutions and the size and scope of the business.
The Incentive, Rewards, and Recognition market and how it differs from retail.
What types of marketing benefits are provided by being in this business in addition to incremental sales.
Brand Engagement 360 Content for the ANA Knowledge Center

Topics on Brand Engagement 360 include:

1. The Principles of Brand Engagement 360. What is the definition and academic theory behind brand architecture that equally embraces all stakeholders? How does this differ from sustainability, CSR, DEI? This will include access to a library of resources.
2. Implementation practices for Brand Engagement 360. A step-by-step guide for rapid, nondisruptive implementation more effectively aligning practices already in place.
3. Stakeholder Engagement economics. How can stakeholder engagement be measured in practical terms that be related to economic outcomes, stakeholder experiences, and greater marketing efficiency.
3. Holistic marketing. How to extend the brand purpose and story across the enterprise to align stakeholder interests toward common goals and objectives. How to budget for Stakeholder Engagement and measure ROI. How to start helping and stop selling through stakeholder-focused communications.
4. Sustainability reporting. The competitive benefits of publishing Sustainability Reports and what's involved.
4. How to enhance efficiency and experiences through stakeholder engagement practices. Learn how to profit from strategies proven in total quality management to achieve better results when aligned toward common purpose: brand architecture, business and talent development, assessment and feedback, communications, learning, loyalty, rewards and recognition, brand experiences, safety and wellness, DEI, technology, human capital measurement and reporting.
5. The new IRR business opportunity for agencies and desirable brands. Learn how cutting-edge agencies and brands from Virgin Group to Weber profit from $500 billion market for engagement services, including $176 billion for brands alone.


---
Click here for complete information on Enterprise Engagement Alliance benefits and to join.