EEA Books, Education Focus on Stakeholder Management Implementation
When you and your organization are ready to profit from the principles of Stakeholder Capitalism, the Enterprise Engagement Alliance provides a complete, practical, and proven roadmap based on the same principles that transformed quality in manufacturing.
Founded in 2009 based on extensive research showing the connection between high performance and having engaged stakeholders, the
Enterprise Engagement Alliance
set out to provide a clear and practical roadmap for implementation. While executives throughout the world just now begin to ponder how to create returns for investors by creating value for customers, employees, supply chain and distribution partners, and communities, the EEA provides two books; a learning platform, and International Organization for Standardization (ISO)-based human capital reporting processes from which any size organization can profit to enhance sustainable performance.
Don't let the partisans fool you, Stakeholder Capitalism is just better business. It's the latest term applied to what was originally known as Stakeholder Management, or what the Enterprise Engagement Alliance (publisher of ESM) calls Enterprise Engagement. It's about creating returns for investors by creating value for customers, employees, supply chain and distribution partners, communities, and the environment.
See ESM: Stakeholder Capitalism Veterans: It's Just Better Business
The EEA has developed and enhanced the process over nearly 11 years with input from over 100 practitioners and educators in all areas of business. The framework is contained in a free curriculum program available for any organization that wishes to implement it.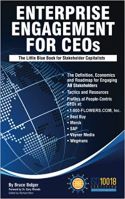 The tools include:
1.
Enterprise Engagement for CEOs
:
The Little Blue Book for People-Centric Capitalists
. provides a concise overview of the principles, economics, and practical implementation process, with case studies of five CEOs who have successfully practiced these principles. It demonstrates how a business operating system can enhance performance by fostering alignment, reduce fire drills, and improve stakeholder engagement while saving money over time.
2.
Enterprise Engagement: The Roadmap
:
How to Implement Stakeholder Capitalism and Enhance Organizational Results Through a Strategic Approach to People
is updated to include the latest information on human capital reporting and standards. This is the textbook for students and actual practitioners at all levels seeking details on all of the many levers of engagement, from culture, recruitment, learning, and communications, to assessment and feedback, collaboration and innovation, health and safety, rewards and recognition, and more.

3.
The
Enterprise Engagement Alliance
individual and company membership program for formal training, certification, and professional marketing. This includes copies of the books and a regularly updated series of videos covering all aspects of the curriculum in preparation for optional certification. This program is for professionals and companies that seek to become experts in the principles and effective implementation of stakeholder engagement.
Based on the Successful Principles of Total Quality Management
Following the same principles that helped transform quality in manufacturing, Stakeholder Capitalism is a management process that enhances performance and experiences by aligning the interests of all stakeholders and the methods used to engage them around common principles and goals. As quality standards accomplished in manufacturing, the process enhances performance and experiences by breaking down the siloes between and aligning the interests across human resources, marketing, sales, purchasing, and corporate social responsibility used to manage employees, customers, supply chain and distribution partners, and communities.
In response to the
Business Roundtable
decision to change the charter of an organization to focus on all stakeholders, the new focus on the subject by the World Economic Forum among those who originally popularized the term, and the strong stance taken on the subject by Larry Fink, CEO of BlackRock or hedge-fund owner Paul Tudor Jones, both the left and the right attack it as the equivalent of "woke" capitalism. The left considers it "green-washing," using fig leaves to hide greed; the right sees it as a threat to property rights by enabling disinterested parties to divert resources to ad hoc or "woke" causes.
In fact, the early people at the front lines of Stakeholder Capitalism principles were simply looking for a more sustainable approach to capitalism that focuses on creating wealth and sharing it with those who create it, rather than extracting wealth for the benefit of a few.
Click here
for an EEA show with six panelists involved with the implementation of Stakeholder Capitalism principles for a decade or more before the Business Roundtable pronouncement in 2019.
The Principles and Framework of Implementation
In the same way that total quality management processes and ISO standards helped transform quality in manufacturing, stakeholder engagement applies a strategic and systematic approach that aligns the interests of all stakeholders and integrates the tactical methods used to engage them to yield higher performance and better experiences over time.
The foundation for success is based on having:
Clear sense of mission – What the organization stands for
Clear goals – Where do we want this relationship to go?
Emotional bonding – A sense of community and camaraderie
Capability – Do people have the resources and knowledge to do what is asked of them?
Fun – A sense of humor and good-naturedness
Support – A sense of being valued and that someone human is overseeing the process
Task value – A sense that what I'm doing has purpose
Feedback – Meaningful metrics suggestions on how to improve.
The Implementation Roadmap
Rather than placing siloes between audience management and the tactics used to engage customers, employees, supply chain and distribution partners, and communities, stakeholder engagement aligns toward a common purpose the promises made to an organization's various stakeholders and the many tactics used to engage them: culture, customer and talent recruitment, assessment and feedback, communications, learning, DEI (diversity, equity, inclusion), innovation and collaboration, rewards and recognition, analytics, etc. For the purposes of human capital management and reporting, these can be organized under the following areas outlined in ISO 30414 Human Capital and ISO 10018 People Engagement standards:
1. Leadership
2. Diversity, Equity, Inclusion
3. Occupational Health and Safety
4. Organizational Culture
5. Productivity
6. Skills and Capabilities
7. Recruitment, Mobility, Turnover
8. Customer Engagement
9. Supply Chain and Channel Partners
10. Community Engagement
Addendum
1. Costs
2. Compliance
3. Workforce Availability
4. Employee Bench Strength aligning the interests of all stakeholders as well as the processes used to engage them.
Click here to get ESM news delivered each week.
---
Master the "S" of Environmental, Social, Governance (ESG), A.k.a. Stakeholder Capitalism
The Enterprise Engagement Alliance at
TheEEA.org
is the world's first and only organization that focuses on outreach, certification and training, and advisory services to help organizations achieve their goals by fostering the proactive involvement of all stakeholders. This includes customers, employees, distribution and supply chain partners, and communities, or anyone connected to an organization's success.
Training and Thought Leadership
Engagement Digital Media and Marketplaces
Enterprise Engagement Advisory Services
For more information:
Contact Bruce Bolger at
Bolger@TheICEE.org
or call 914-591-7600, ext. 230.