Stakeholder Capitalism: A Primer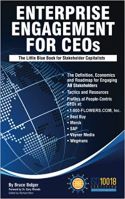 Governors in Texas, Florida, and Louisiana have drawn attention to Stakeholder Capitalism through their proposed measures to curtail state pension funds from investing in investment managers that promote or support ESG (Environmental, Social, Governance) practices, increasingly associated with Stakeholder Capitalism. Sen. Pat Toomey, R., PA., recently made national news by requesting detailed information of standards from more than a dozen ESG ratings firms. Writing recently in opposition to Stakeholder Capitalism in multiple publications and cable media platforms, a former health care entrepreneur and now asset manager, Vivek Ramaswamy, says, without reference to any formal definition, that "Stakeholder capitalism refers—or at least used to refer—to the idea that companies should serve not just their shareholders, but also other societal interests." Ramaswamy is now running for the GOP nomination for US president on an anti-Stakeholder Capitalism plank.
The Definition of Stakeholder Capitalism Consistent With Sound Business Principles
Opponents Focus on an Illogical Definition of Stakeholder Capital

Arthur C. Brooks, a Harvard professor and social scientist agrees. "The best organizations, the best societies, the best-run companies, the healthiest families—what do they do? They look out for each other. They think about what everybody needs. That's what going on in good organizations."

The Contributors to Stakeholder Capitalism Principles
Below is a list of people and organizations who have over the years promoted the principles of addressing the needs of all stakeholders in the formulation and implementation of organizational management strategies, mostly at a practical level for their employers and/or clients. Stakeholder Capitalism and the field of Enterprise Engagement are not to be confused with tactical strategies related to employee and customer engagement or experience. Therefore, many worthy advocates for employee and customer engagement are not included in the list below unless their work focuses on the alignment of these activities toward a common organizational brand, purpose, and objectives. If we have missed anyone, let us know.
The concept of addressing the needs of all stakeholders so well articulated by Edward W. Demings' "14 principles" published decades ago, is unique in that it focuses on having a strategic and systematic approach to engaging and enabling all stakeholders in a way that fosters alignment and eliminates the silos so prevalent in most organizations. While every organization needs specialists in employee and customer engagement, a key principle of Stakeholder Capitalism is that the CEO and C-suite will achieve better results in terms of sustainable performance and better experiences through the application of a strategic and systemic approach to aligning all interests toward common goals.